Emotions are flowing heavy in the aftermath of Willow's reappearance on Home and Away in the UK, which airs next week, but she's not the only one returning to Summer Bay! Ari, on the other hand, is torn between two loves…
Last six weeks ago at Summer Bay, Willow Harris (Sarah Roberts) was discovered fleeing the dark, after testifying at his killing trial against her good friend Colby Thorne (Tim Franklin).
Willow refused to wear a hidden surveillance device that caught Colby's acceptance of Ross Nixon's killing.
Willow was hesitant to wear a secret recorder that caught Colby revealing that Colby had murdered his step-father Ross Nixon, so he was highly psychotic in his efforts to stay a step ahead of Detective Angelo Rosetta (Luke Jacobz), who was still trying to take down his family and friends (Justin Rosniak).
Colby was sentenced to 25 years in jail after being forced to plead guilty after the tape was played in court and Willow herself took the stand. Willow was shunned by her best friend Dean (Patrick O'Connor) and Colby's sister Bella as they returned home (Courtney Miller).
Willow made a discreet escape that evening after losing her only 'family' in Summer Bay, with only Irene (Lynne McGranger), Jasmine (Sam Frost), and John (Shane Withington) to see her off.
When the previous week's episodes came to an end, Dean was surprised to see Willow waiting for him at the bottom of the stairs, welcoming him with a "Hello stranger."
When we return to the action this week, Dean storms off, refusing to listen to Willow's words. Willow is greeted with a welcoming smile when Irene recognises her and comes over to hug her. Irene tells Marilyn (Emily Symons) that she brought her into the diner to meet Marilyn because Willow had seen the latest on Colby's second murder charge on the television and needed to see how things were going.
Willow's next examination, though, isn't far away, as Bella arrives. When Willow decides to reach her, Marilyn and Irene watch nervously. Needless to say, it doesn't go well. Bella retreats when she sees her old friend and barks at Willow to stay away from her.
Willow decides to confront the dilemma head on and leads Bella upstairs to the apartment, where she lets herself in. Bella tells her to leave when she recounts Colby's ordeal after entering prison—his near-fatal beating and eventual murder to defend himself, which means he'll possibly spend the remainder of his time behind bars.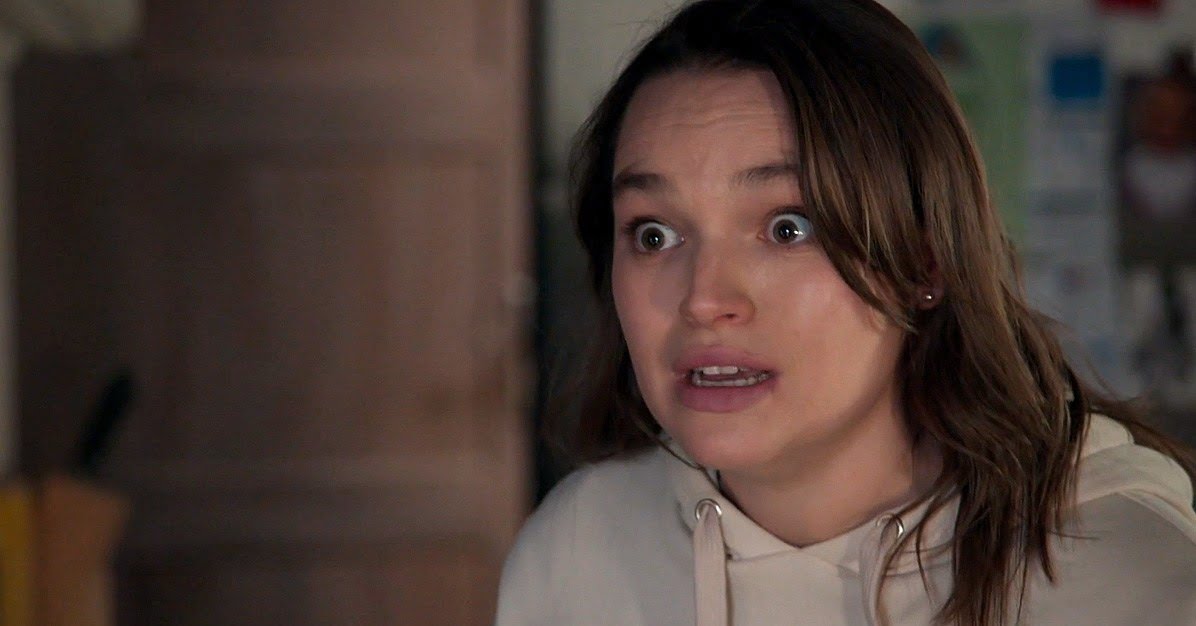 When Bella threatens to drive Willow out, Willow quickly tries to apologise, only for Dean to come home and break them up. Bella and Willow are both taken aback, and Dean proposes that they owe Willow a chance to justify herself.
Willow continues to justify why she made the decision, claiming that she was trying to defend everyone, but Bella still regards her as a spy. Dean, on the other hand, starts to see it from Willow's perspective and promises to continue to reason with Bella after she storms out.
Dean and Willow catch up in Salt later, and Dean says that he knows why she did what she did. Willow starts to cry when she realises that there is a way out of this, and the two confess that they have missed each other.
Willow is shocked to find that Dean and Ziggy are barely speaking to each other after the two catch up some more, and as Dean goes inside to get more alcohol, Willow makes a phone call to someone she hopes may be able to help Dean get out of his funk…
As Dean goes downstairs shortly after, he is surprised to see Amber (Maddy Jevic), whom he hasn't seen since she and their son Jai (River Jarvis) left town about two months ago.
Is there a possibility that Dean will actually be a daily part of his son's life now that Amber seems to be able to put the latest events behind them?
In Summer Bay, Ari Parata (Rob Kipa-Williams) and Mackenzie Booth's friendship is about to come crashing down after a romantic trip away to rekindle their love (Emily Weir).
Following the arrival of Ari's ex-girlfriend Mia Anderson, the pair has had a rocky path in recent weeks (Anna Samson). Mac has become more alienated as Ari has begun to reconcile with Mia's daughter Chloe (Sam Barrett), whom he has not seen since he was incarcerated a decade ago.
Ari took Mac on a posh hotel break in the city after realising his abuse of her, and the couple is in a happy position when they return. However, Mia unexpectedly walks in when they get frisky on the sofa. When he pushes Mac on the other side of the couch, an ashamed Ari can't get her off him soon enough, and all of Mac's worries rush out. As she approaches Ari and asks if she has anything to be concerned about, Ari is unable to respond immediately… As a consequence, Mac leaves.
As Mia came in, Ari reveals to his brother Tane that he almost felt like he was cheating on her. Ari visits Mac at Salt and asks her if she can give him some space to sort out his feelings for Mia, thinking he wants to think about them. Despite his displeasure, Mac decides.
Ari plans to throw one of their famed Parata BBQs the next day, but Mia gets in the way when she goes to Salt to get drinks and asks if Mac will be joining them—the it's first time she's heard of it! Mac then follows Mia downstairs, pleading for her not to take Ari away from her—even if Mia has no intention of doing so, Mac realises deep down that she might… if she only asked.
Mia can't help but wonder why Ari hasn't welcomed his girlfriend as Ari, Tane, Mia, Nikau (Kawakawa Fox-Reo), and Ziggy (Sophie Dillman) enjoy a fun afternoon in the garden, with the Paratas showing off their singing talents.
She pulls him aside and asks Ari if her interference has anything to do with it; after all, she's made it obvious that she doesn't want to get in the way of Ari and Mac. Mia is frustrated when Ari reveals that he's always sorting out his feelings for her, considering the fact that they have a long relationship together and he's never forgotten about her.
Unfortunately, Mac has wanted to go over to the Parata house to meet with Ari, and when she creeps around the side of the house, she can't help but overhear some of Ari and Mia's conversation.
Mia reminds Ari that he's in a relationship, and she doesn't want to get involved. If he's going to start making all kinds of mistakes, he'll have to do that on his own, so she leaves quickly.
Who would Ari pick between his two loves now that he is torn between them?