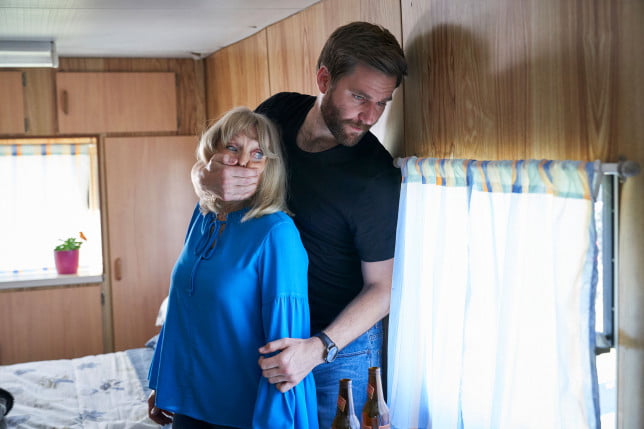 On this week's episode of Home and Away, Ziggy (Sophie Dillman) plots to reunite Bella (Courteney Miller) and Willow (Sarah Roberts), but her scheme backfires. Meanwhile, Susie (Bridie Carter) tries to poison Irene (Lynne McGranger) to get her out of the frame, but John (Shane Withington) gets caught in the crossfire.
Martha (Belinda Giblin) is persuaded that her dreams have returned, but the reality is even more frightening. Justin (James Stewart) is in for another unpleasant surprise when he calls the real estate agent and learns some disturbing news.
Finally, Lewis (Luke Arnold) has some bad intentions for Ari (Rob Kipa-Williams), and Dean (Patrick O'Connor) and Ryder (Lukas Radovich) make progress in their romantic relationships.
Here's what's on Home and Away this week, starting Monday, April 19th.
The scheme by Ziggy to get Bella and Willow to chat backfires.
Now that Ziggy and Willow are friends again, Ziggy decides to help her friend rekindle her friendship with Bella. She approaches Bella and offers to hang out for the day, which Bella reluctantly accepts. Bella's TAFE job and her photographs are discussed throughout their time together. As Bella begins to open up, Ziggy realises she isn't ready to forgive Willow and composes a text stating that the scheme must be abandoned – just as Willow enters with pizza…
Susie poisons herself by mistake. John is a man with many talents.
Susie's efforts to raise sponsorships for the surfing competition and persuade Justin and Leah to take out a private loan are going well, but Irene is a thorn in her side, expressing her opposition at any chance. To heal the split, John arranges a dinner for the three of them, but Susie has little intention of playing nice as she fills a wine glass with an unknown liquid at the bar. Irene, on the other hand, declines the drink, and John accepts it instead…
Kieran reappears to kidnap Martha.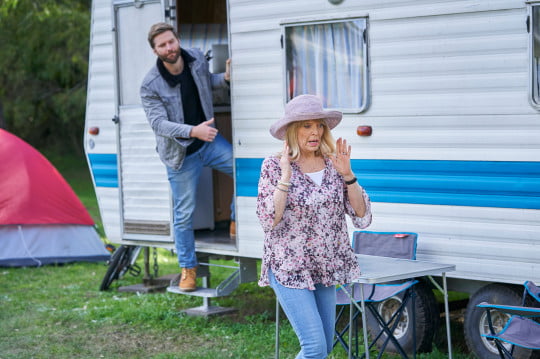 Martha and Alf have returned from the hospital, and her husband convinces her to empty the spare van of supplies for Kieran. When she enters alone, however, she is confronted by Kieran. She flees, convinced he's a hallucination, and Alf returns her to the van to show there's no one there. Kieran, on the other hand, is watching from afar, and we later see him pinning Martha to a wall to keep her quiet when Alf and Roo go looking for her…
In the ward, Lewis plans to kill Ari.
Lewis has made it clear that he doesn't trust Christian or believe he's a competent neurosurgeon, which has caused Christian to have doubts about his abilities when Ari is admitted to the hospital. Christian pore through Ari's medical files when he's in a coma, but Lewis sneaks into the ICU after hours to prepare a vial filled with a radioactive agent intended to take Ari's life…
Tane learns Mac's secret.
Mac just found out she's pregnant, shortly after her breakup with Ari and the heartbreak of learning he's rekindled his romance with Mia. The situation is exacerbated when she learns that Ari is in a coma as a result of a car accident, and she struggles at work the next day while waiting for updates on him. When Tane enters, he gives Mac an update from the hospital, and she breaks down in tears. Tane pushes her to the side and tries to talk to her, correctly assuming she's pregnant after she declines to speak…
The relationship between Ryder and Chloe evolves.
In the wake of her surprise kiss at the Parata building, Ryder has been avoiding Chloe, but he is compelled to speak with her at work. Nikau and Bella are left wondering what has happened to them now because she is more aggressive than normal. Bella pursues Chloe and discovers that she likes Ryder. Bella encourages Ryder to confront Chloe with this detail, and to her surprise, he summons her to the store cupboard to "talk about the olives." When he asks if she likes him, she has no choice but to say the truth. He says he feels the same way, much to her delight…
Dean expresses his feelings for Amber.
Dean was overjoyed when Amber and his son Jai moved into the Pier apartment, eventually giving him the opportunity to reconnect with his little family. Furthermore, he and Amber have reached a good point in their relationship and spend time reminiscing about the past. Dean notices how Amber has improved and tells her that he wants to be with her. She withdraws to her bedroom because she is at a loss for words. Would she choose Dean, or has he simply made their living condition unbearable?
Justin learns some concerning information about the home.
Susie recently received a $90,000 private loan from Justin and Leah, allowing them to put down a deposit on their first home together. They take a picture of themselves outside the property's Sold sign, and Justin decides to surprise Leah by installing a new kitchen bench. When he calls the real estate agent to get the keys, he is shocked to discover that they have never heard of him – and that the house was not sold to them…