Susie McCalister is set to face massive drama in a recent Home and Away promo, when "Sneaky Susie" takes dramatic measures to protect her name. The dramatic latest promo can be viewed in its entirety below.
Early in 2021, Susie McCalister (Bridie Carter) arrived in Summer Bay as a local real estate agent, assisting Christian (Ditch Davey) in seeking a home in the area. He wanted a place to stay because he'd agreed to stay in Summer Bay to completely commit to his friendship with Tori Morgan (Penny McNamee).
Susie moved to town from Western Australia with no friends or relatives, and she soon set her sights on John Palmer (Shane Withington). She was instantly smitten by Palmer, who had just divorced, and the two started dating within days.
John was totally taken aback at how outgoing this new woman was, particularly given his recent failures at online dating. Eventually, he settled into it and accepted that he'd managed to charm the pants off her with her love of life and her desire for them to have fun together.
However, it became apparent very soon that things were not as they seemed. Susie rummaged through John's financial documents as she was left alone in his living room in episodes that aired in Australia at the end of February and are scheduled to air in the UK tonight (Wednesday 17th March), and she was obviously delighted by what she discovered.
Although we don't know what she has intended for John, she has already set her sights on her next victims, Ada Nicodemou's Leah Patterson and Justin Morgan (James Stewart). Susie has located the suitable home for them, and they have made a bid.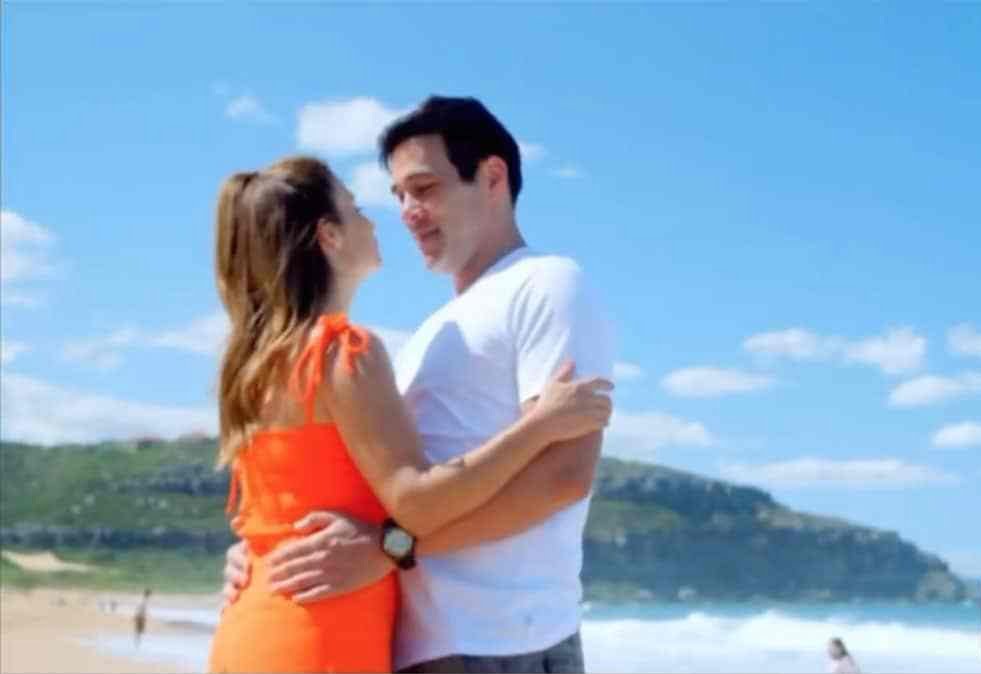 "It's everyone's fantasy to own your first house together," says the voiceover over an excited Leah and Justin on the sand, arm in arm and embracing.
So far, it has gone well. Susie's job has them excited, and they believe she's about to find them their forever home. However, the words "Sneaky Susie" appear on video, confirming our fears that there's more to Summer Bay's newest real estate agent than meets the eye.
As Leah tells Irene, "she has been amazing for us," Justin adds, "miracle worker."
However, as we cut to a shot of Susie on the phone, it's obvious that the pair is being led astray. Susie tells a mysterious person on the other end, "I've got a lovely couple on the hook," implying that Leah and Justin will never get to move into the house she's allegedly secured for them. Is she going to take their deposit?
However, there is one guy that can interrupt Susie's plotting before it's too late.
Susie's confident exterior has already been seen though by Irene (Lynne McGranger). When she first arrived in town, she was excited for John to strike up a chat with the new blonde, but her impression of Susie soon soured when she saw how much she tried to rile up the rest of the town.
Then there was her unwavering commitment to secure John's presidency at all costs, causing a major split between Alf Stewart (Ray Meagher) and John in the process. Then there was the dreadful way she delivered Marilyn's divorce documents, which left her in tears. Irene recognises that something is wrong with Susie and has no intention of keeping her thoughts hidden.
She calls Susie "Real estate Barbie" and says, "I have such a terrible feeling about this."
The voiceover stresses, "So you'd best not get in her way." Susie is well aware that Irene may be her undoing, and she is determined to stop her in her tracks. She plans to pay Irene a visit at her home and warns her to be careful about her actions.
During a tense conversation at the beach house, Susie warns Irene, "Be very mindful of what you say next." "I can see straight through you," Irene retorts, demonstrating that she has no intention of backing down.
The promo features Susie, John, and Irene having drinks at Salt, which is the clearest indication that things with Susie are about to get heated. Susie goes to the bar and orders three bottles of red wine as John and Irene talk at the table.
She takes a pippet from her purse and drops a few drops of a translucent liquid into one of the glasses while making sure the other two aren't looking. The subsequent shot shows her pointing one of the glasses at Irene.
Irene no longer drinks as a recovering alcoholic, but how would Susie intend to get her to have a glass of the red wine, tainted or not?
In Salt, Justin and Leah embrace as Susie assures them, "It has been a joy doing business with you."
They're both beaming, meaning that Lustin's house acquisition has gone through – or at least that's what they think. Are they about to lose a huge amount of money to Susie's scheming ways when they have to pass their house deposit to her?