Penny McNamee, one of Summer Bay's most beloved stars, celebrated her birthday today, and the Home and Away family was there to celebrate.
Penny, who plays Tori Morgan, the friendly, down-to-earth, and optimistic Summer Bay doctor, turned 38 today and is embarking on an exciting new chapter.
The Home and Away production and cast are well-known for their mutual support, which has always been a breath of fresh air in the typically snarky TV world.
For Penny's birthday, the soap's Instagram page posted a photo of her with the caption "Happy Birthday Penny."
The photo was accompanied by the heartfelt caption, "We're wishing Penny McNamee a very happy birthday today!"
The post was inundated with birthday greetings from fans of the actress and her role, including a fan account dedicated to the star.
Penny's co-star Sam Frost, who plays Jasmine Delaney, liked the tweet, but we think she messaged Penny privately.
Although the soap doctor has yet to share details about her birthday celebrations on Instagram, she is expected to spend the day with her high-school sweetheart husband, Matt Tooker, and their twins, Jack, 5, and Neve, 22 months.
Penny spoke exclusively with New Idea earlier this year about her relationship with her husband, spilling some personal information about their past.
"My husband and I enjoy home repairs. We renovated our previous home and recently sold it to buy a fixer-upper in the midst of a lockdown.
Here I am taking copper bits from an old water heater in the roof and disposing of them in a skip bin. I enjoy putting on my work boots and having my hands dirty in the renovation process, as well as the innovative styling process "Penny said.
Penny has no regrets about marrying her childhood sweetheart, and she feels their relationship has only become stronger over time.
"Matt and I met in high school when we were 16, and we married in our late twenties. He's my fortress, my safe haven, and my best friend.
"I once heard Sheryl Sandberg say, 'The most significant career choice a woman can make is the man she marries,' and I couldn't agree with her more," Penny said.
As if this TV star couldn't be more endearing, she's also a big supporter of Camp Breakaway, a central coast organisation that works with kids and adults with physical and intellectual disabilities.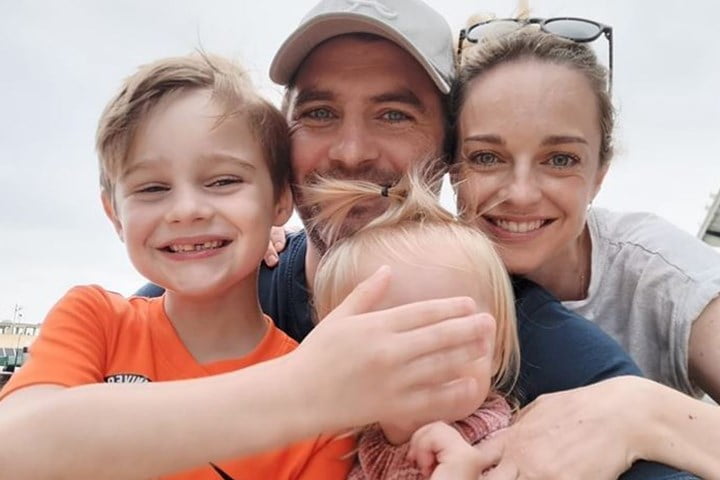 Penny explained on Instagram that the charity holds a special place in her heart because her cousin Kim has benefited from it.
"Camp Breakaway is a breathtaking oasis on the central coast for kids and adults with physical and intellectual disabilities," she said. They will stay at the specially built camp for several days and engage in very fun activities led by experienced caregivers and nurses, providing much-needed respite to their families.
"In this first photo, my cousin Kim and I are at Camp Breakaway. Kim has attended these incredible camps since she was a kid, giving my lovely aunty Clair a break from being Kim's full-time caregiver."
However, as a result of Covid, the camp is struggling to finance its essential services.
"However, Covid has exhausted Camp Breakaway's capital, forcing them to cancel camps for the next six months!" Penny said.
Penny has several links for donations to the camp on her socials for those who want to support the charity.
Penny seems to be making a difference in people's lives both on and off the screen, but we hope she will take some time for herself on her wedding day to unwind.