The big news is that Willow has left for good in order to announce her love for Alex, a flame that has existed even before I began watching.
And while the fan Facebook pages are flooded with people "shedding a tear," it has no effect on me, and tonight is so boring that all I want to do is forget about it and look forwards to tomorrow, when Lewis can kill a patient.
Willow flees Summer Bay so quickly that not even her closest relatives, such as Jasmine, can make it to her final farewell.
To be honest, they're not missing much, and it's pretty mild in Home and Away fashion.
Dean and Bella are in a bad mood, and their obstinacy irritated me at first, but Alex wasn't listed until last week, and Willow is now going to Queensland for her.
Dean arrives a few minutes later because even the producers recognise how boring this is and want to get it over with as soon as possible.
In what I think is a tear-jerking moment, they talk about the good old days and how far they've come since they were young "rascals" from Mangrove River.
Willow tells Dean, "I'll always be thinking what might have been."
They end up hugging each other.
At Salt, a small group of people who were able to attend the send-off on such short notice gathered.
Willow gives Bella some parting advice.
Willow advises, "Don't let boys push you around." "Never, ever
"And if Dean ever wants a good thrashing-"
Bella interrupts, "I'll send him one."
"I never expected you to bring me back into your life, and I'm so grateful you did," Willow says.
And she jumps into a vintage Mustang convertible (where has that been all along?). and then disappears, never to be seen again.
Despite the fact that they've made it very convenient for her to return — not that ease is a problem in this display.
Also, the gym has a vacancy for a trainer, which is a good match for Tane and his massive arms.
Dean and Amber take a moment to debrief, and Amber mentions something about having another child and a puppy, which makes Dean freak out because, despite what he has said over the past few weeks, he is terrified of commitment.
In other news, John's mug appears on the front page of the local newspaper, exposing his embarrassment.
When Justin meets John for a short pep talk, he's eating his breakfast in the car "so people won't stare at him."
"We were all duped by Susie's lies," Justin admits.
"It's not your fault Susie took our down payment."
John trots down to the Surf Club and confesses that he never gave a quote to the reporter covering Susie's con.
Despite the fact that they seem to have perfectly captured his personality – a self-described "gullible food" –
However, as the saying goes, any publicity is good publicity, and calls begin to pour in from strangers offering generous donations.
Justin is on the phone when he gets home from the pep talk, and he "reckons he pushed it too much."
He groans a little and then lies down between the coffee table and the couch on the floor.
As Leah returns home, Justin is still lying on the floor.
He admits it's the most excruciating pain he's ever experienced. Worse than when he was diagnosed with the tumour.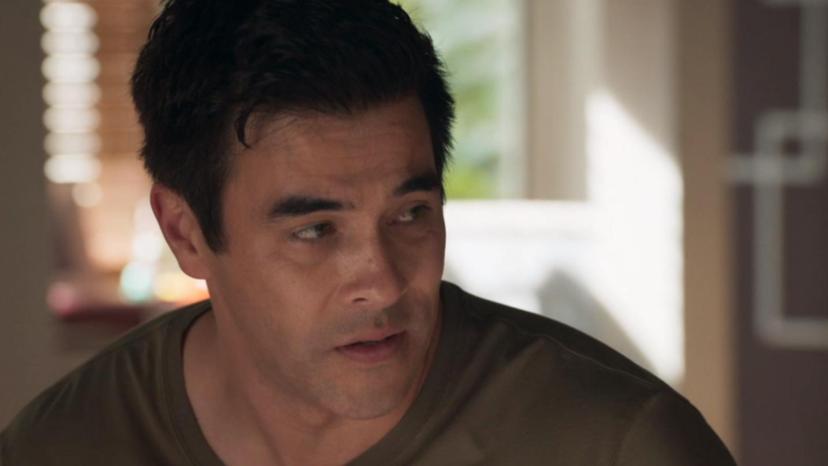 Home and Away is such a teasing display. You've been toying with the idea that Justin might die at any moment, but will he actually succumb to Leah's dead husband curse this time?
I believe his time on the show has come to an end, and James Stewart (who plays Justin) and his real-life wife Sarah Roberts (who plays Willow) are moving on to new adventures.