Next week on Home and Away in the UK, Irene is taken aback when she discovers Martha on the pier talking to herself… Still more of a surprise awaits her as Martha introduces her to "Kieran."
How would she persuade her friends and family that her son isn't really back?
After his latest battle with Alf Stewart, Martha's son Kieran (Rick Donald) shot through (Ray Meagher). Alf had no choice but to call the cops after their brawl, but Kieran had already packed his stuff and fled by the time they arrived. He discovered that he had an outstanding warrant for his arrest, so he chose to flee rather than face the consequences.
Martha (Belinda Giblin) was shocked by his disappearance. Despite all of the warning signs, she believed her son had finally turned a page after just a few months of being reunited with him.
Martha's mental health deteriorated as a result of the incident. She showed up at Irene's house shortly after Kieran vanished, franticly begging for assistance. Alf and Roo, she claimed, were holding her captive and refusing to let her return to Merimbula. They manage to persuade her that they only have her best interests at heart, and that she should stay in Summer Bay, where Kieran would eventually come looking for her, with the help of Irene.
That's exactly what happened shortly after… at least in Martha's view.
Kieran appeared as she walked through the caravan park in the dusk, telling her that he'd missed her. In the days ahead, he emerged again, and the two decided to keep their meetings private for the sake of the family.
When Alf and Martha passed by and saw her talking to herself, she tried to reassure them that she was actually following the relaxation mantra that her councillor had given her. The couple believed her because it sounded fair, and life went on as usual.
Nonetheless, Martha's dreams of Kieran persisted, and she believed he was back in Summer Bay. He also paid her a "visit" in the Northern Districts Hospital waiting room, where she told him that all she had to do was "keep playing the game" of going to therapy to satisfy Roo and Alf, and "all will be fine."
Martha has been finding it difficult to find enough alone time to talk to Kieran because her family is so worried about her well-being. Alf and Martha are babysitting her, and she feels like she's losing out on opportunities to reconnect with her son.
Kieran's visits to her have ended in the last week. When Alf lost the election, he now has much more free time than before, and she worries that Kieran is avoiding him.
When Alf's smothering became too much for her, she convinced him to give her a spare van in the caravan park so she could paint alone. He agreed, and she now has sole possession of the van. She has no intention of using it for her creative endeavours, and instead has stocked it with new shirts, shoes, and underwear for Kieran in the hopes of luring him back.
But as the days passed, no sign of her son's return appeared.
Martha's mind goes into overdrive this week when Paul and Leon abduct Ryder and his friends. She instantly thinks the worst when Alf tells her that Ryder has not returned home after his big night out with his friends.
She thinks her son is to blame, and she wants retribution for the way she and her family handled him.
She frantically calls and texts him, looking for proof that the teen squabbles aren't his fault. As much as she wants to reconcile with Kieran, it seems that she is well aware of his abilities and needs confirmation that he has nothing to do with the incident.
In a voicemail, she informs him that Ryder has gone missing. Do not punish him as a result of my presence."
The abduction, of course, was the result of Tane's issues with Paul's drug cartel, and Kieran had nothing to do with it. Martha is relieved when Ryder discovers the kidnappers' true identities, but she is still overwhelmed with remorse that she accused her own son of kidnapping.
The incident prompts Kieran to reappear in front of her. They debrief at the pier, and Martha apologises for accusing him of hurting Ryder.
She is concerned that they will be seen and recommends that they return to his van so that they can reconnect… right as Irene approaches them on the pier!
From Irene's viewpoint, what she sees is Martha conversing with herself! When she approaches, she startles Martha, but her surprised face quickly changes to a smile as she introduces them.
"Irene, you're familiar with Kieran, my son."
Irene nods as Martha demands that they keep Kieran's return a secret from Alf and Roo, lest they call the cops on him once more. When they run into Roo, she remains silent, but soon sits down and tries to get the whole story from Martha.
Martha explains that Kieran returned a week or so after Alf reported him to the cops, and she's set up the van as a hiding place for him. However, when she assures Irene that she is the only one she can trust right now, it seems that Irene's acceptance of Martha's story would only serve to validate the visions, further confusing her mind.
Irene tells Alf and Roo about what she saw when she returns Martha to Summer Bay House.
"What are you talking about?" Is he back?" Roo inquires, but Irene states that this is precisely the issue – no one was there!
They are concerned that by driving Kiran away, they have caused this. The father-daughter duo has no choice but to intervene and confront her about her actions.
However, Martha gets the short end of the stick and, thinking they are aware that Kieran has returned, she threatens to never forgive them if they prevent her from seeing her son!
Alf is afraid that if they make the wrong decision, they'll lose her forever – he's already been without her for 30 years, and he's not willing to chance it again. If they want to speak to her, she may become defensive; she requires clinical assistance.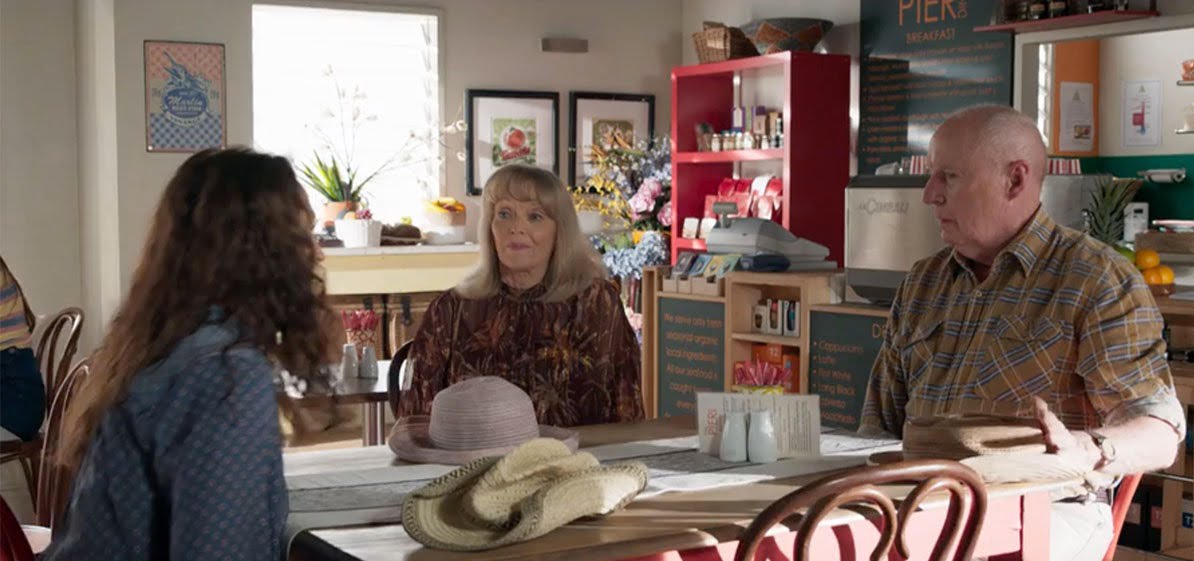 They intervene at The Pier, telling her she wants to speak with a councillor about Kieran. But Martha has no idea that she's seeing things that aren't there, and she's baffled as to why she wants to return – she's fine with Kieran!
She reluctantly agrees and enters medical treatment for a thorough examination.
The issue is that Martha claims Irene saw Kieran in person, and no amount of persuasion can persuade her otherwise!