Dee Smart's self-portrait I'm here is an image of power, grace and resilienza with her navel-sharp cheekbones and eyes gazing at the viewer.
Her bald head and pallor are the only sign of the tumult in the artist's lives, artfully captured in the little drawing with sensitive brushstrokes.
Smart smiles as she discusses her "extraordinary and horrendous" last two years, a former actress who starred in "Home & Away and Water Rats," including a split from her husband Chris Hancock in over two decades. Both stay close and Smart talks about him gladly.
Her first major solo exhibition of photographs of women performers, poets and singers was followed by a tumour removal operation 'the size of a tennis ball' from her blood at the Nanda/Hobbs gallery in late 2019. Shortly following, the 54-year-old mother of 3 began chimiotherapy.
The self-portrait of Clever I was an Archibald Prize Finalist 2020, who is now on tour in provincial NSW galleries.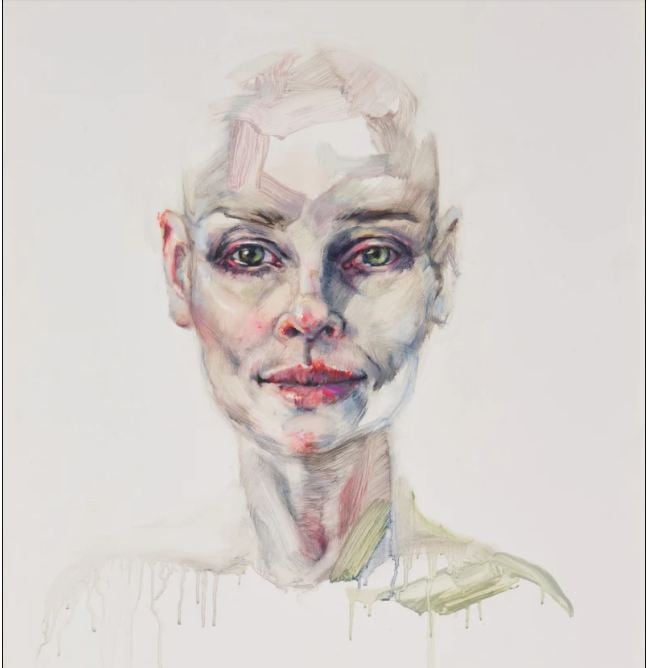 But a print of the job is being seen in the Town Hall of Balmain as part of the display Queen Bees of Balmain at the Inner West Fest, Baludarri (Balmain), from March 19 to 28.
The exhibition will also include works of Marie Pierre-Toltz, Lara Scolari and Elise Catterall, photographer.
The Glass House on Darling Street will be full as part and paradise of the Festival and the radio figure Yumi Stynes will also be interviewed by Smart at the opening of the day as part of a talk programme arranged in response to a $10,000 grant from the Inner West Council by Lisa Tatman, the producer of the artistic group My Kind Co.
The women's exhibition was intended to turn the meeting room "of the town hall from the conventional and patriarchal to the matriarchal and of the present." Tatman said.
The Balmain Festival is one of five smaller festivals to be held in inner Sydney this year since the Council has agreed to divert $400,000 in streetfestival funds.
A Council Speaker said that it was not feasible to foresee potential orders on public health, or whether another blockade or epidemic would occur, despite the relaxation of COVID-19 restrictions.
The exhibition includes seven of Smart's paintings including Ella Havelka, first indigenous dancer at the Australian Ballet, and Meryl Tankard, dancer and choreographer.
In their sessions, Smart said she loved the relationship she built with her subjects.
Last year after her chemotherapy surgery, Smart's self-portrait, her third work to be awarded the Archibald Prize, was painting her body, and it was a battle for lifting a paint brush.
She said of the tiny drawing, which measures 59 in 49 centres, "I honestly felt it was going to be looked at." "I took the opportunity to miss it."
Smart claims the chemotherapy therapy for months left her feeling unhappy, but she never felt afraid.
She said, "I thought I'd be nice. "It has not been easy. It is not easy. I didn't want it to be a sob story when I began drawing.
"There was courage I needed to demonstrate. We will live and be lovely, kind and loving. And its is because of the people in my life around me."