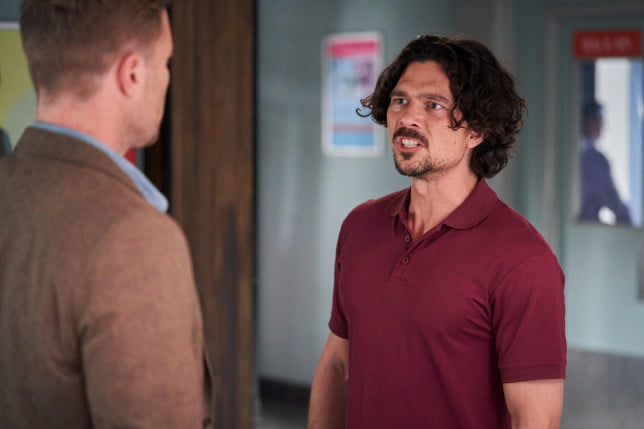 This week on Home and Away, multiple characters are at odds with one another, bringing new and current relationships to the test. When everybody is smiling at Tori (Penny McNamee) and Christian's (Ditch Davey) engagement party, Lewis (Luke Arnold) is enraged when the neurosurgeon tries to operate after drinking – and the two immediately clash.
Meanwhile, though Justin (James Stewart) and Leah (Ada Nicodemou) take an encouraging step forwards, some other relationships are on the verge of falling apart. In the wake of Kieran's (Rick Donald) death, Martha (Belinda Giblin) has a psychotic breakdown due to her mistrust of Alf (Ray Meagher). In other news, Dean (Patrick O'Connor) is having trouble dealing with Ziggy (Sophie Dillman) and her new fiance, Tane (Ethan Browne).
This week on Home and Away, here's what to expect.
In the ward, Christian and Lewis come to blows.
Christian has a single cocktail while on call at Christian and Tori's engagement party. When he's called into work to have a course of action for a customer, the two are having a slow dance. As he says he has to work, Lewis leaps on him and tells him he can't because he drank so much at the party. Christian is enraged that he is being threatened, and as the argument heats up, Tori is summoned to intervene…
Justin and Leah move their friendship to the next level.
During a midnight stroll, Justin and Leah focus on their own relationship after seeing Tori and Christian's happiness at their wedding. They're in a happy position now that they've worked out their differences over marriage and take a break from their walk to make love on the sand. Justin has some positive news for Leah the next day: he wants them to buy a house together. Leah agrees, but the two quickly realise that the next move is to inform Tori of their plans.
Ryder is bothered by Chloe.
To Ryder's (Lukas Radovich) chagrin, Chloe (Sam Barrett) recently convinced Mackenzie (Emily Weir) to recruit her at Salt. Ryder is left to handle Chloe on her first day at work, and his greatest fear comes true when she refuses to follow any orders. She will find an excuse to complain over something, which leads to him storming out of the pub. Chloe follows suit by quitting and fleeing her shift, possibly putting Ryder in danger at work…
Susie employs John in her covert operations.
Susie (Bridie Carter), John's latest love interest, is always smitten with him, and she is working hard to become a part of his life. After a day of working on his Surf President campaign, the two return to his house, and she proposes they toast their success with champagne. Susie takes advantage of the vacant house as John rushes out to get the drinks, and she suddenly rifles through his financial statements. What really is she up to?
Nikau replaces Bella with Chloe, a novice.
Bella (Courtney Miller) is becoming increasingly irritated by Chloe's constant presence at Nikau's (Kawakawa Fox-Reo) side, preventing her from spending time with her own boyfriend. She begs Ryder to step in and share time with Chloe, but he flatly declines – they despise one another! Bella, desperate, pulls Chloe aside and tells her she needs some one-on-one time with Nikau. Chloe, on the other hand, refuses to listen and assumes a firm stance with her. Nikau overhears Bella cracking and calling Chloe a lazy sheep, and is angry with her, freezing her out…
Dean has an uncomfortable encounter with Ziggy and Tane.
Dean has taken to alcohol to cope with his emotions after Ziggy actually built up the nerve to remind him there's someone better. When Mac goes to check on him, Dean becomes enraged when she reveals that she heard about Ziggy and Tane before he did. It is certain that Dean will run into the new pair outside the Surf Club, and Dean will immediately walk away. Ziggy is overcome with remorse and contemplates whether or not she should pursue him. Tane asks her again if she's confident he's not mixed up in a love triangle.
Martha's mental health continues to deteriorate.
After an altercation between Alf and Kieran at the Surf Club, Martha was left heartbroken when her estranged son turned abusive before leaving the Bay. She begins to give Alf and Roo the cold shoulder as she thinks about Kieran, unable to accept that they only have her best interests at heart. When she goes missing, Roo becomes concerned and calls Alf; in the meantime, Irene is walking home from the Diner when Martha appears from the darkness and insists vehemently that Alf is holding her hostage…
Dean is taken aback when Willow reappears out of nowhere.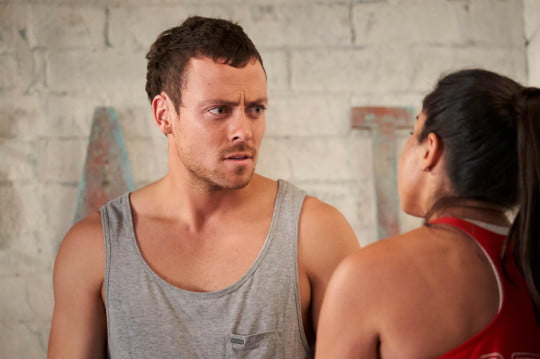 Dean has been through a lot recently, with his best friend being charged with murder, his son going missing with Amber (Madeleine Jevic), and his ex breaking up with him before moving on with anyone else. In addition, he's still reeling from his long-time friend Willow (Sarah Roberts) betraying everyone in court by dumping Colby (Tim Franklin) in it – so he's surprised to see her at the bottom of his stairs when he heads out one morning. She's returned to town after a few weeks abroad. So why is that?