With fewer than three months till the end of Neighbours, you'd assume the renowned Australian soap would be rushing to the finish line, with plot taking precedence over character development.
The long-running show was cancelled by Channel 5 at the start of the year, leaving producers with the difficult task of bringing multiple unresolved stories to a satisfying finish.
We'll likely see the first evidence of plots being hurriedly wrapped up in the coming weeks to make space for the nostalgic final weeks, which will feature more than 20 returning stars.
In the meantime, it's encouraging to see that the current regulars, particularly Hendrix Greyson and Mackenzie Hargreaves, are still getting their due.
Hendrix was diagnosed with pulmonary fibrosis earlier this month and informed that if he didn't have a lung transplant within the next three years, he'd die.
Hendrix has spent the last few weeks adjusting to the surprising news, as well as the part that his new neighbour Sadie Rodwell played in precipitating his illness.
Hendrix needed a break from the pressure and felt suffocated by everyone's worry, so he travelled to Sydney with his girlfriend Mackenzie.
This would have been a simple excuse for a lazier soap to take Hendrix off screen and neatly overlook the plot for a few weeks, but not Neighbours.
Hendrix and Mackenzie's trip to Sydney was the centrepiece of Friday's special episode, which was fully shot on location away from the Neighbours set.
Fans learned fresh facts about Hendrix's past as he brought Mackenzie to several spots significant to him as a child.
Hendrix also spent some much-needed quality time with his father Pierce (now Tim Robards), sister Alana, and mother Lisa, who were all completely unaware of his health issues.
While the trip started out pleasantly, it quickly became unpleasant as Hendrix struggled to keep up with any discussions about his long-term future – something that is far from certain for him.
Hendrix broke down, devastated at the prospect of missing out on everything, and subsequently informed his family the truth in poignant sequences.
Hendrix then unexpectedly proposed to Mackenzie after realising what he wanted out of life, regardless of what the future contained.
Single-storyline episodes like this can be risky because soap operas normally follow a strict pattern. If the executives pick the wrong plot or character for a special, the unconventional format can come across as self-indulgent, and the audience's attention will wander.
Fortunately, such was not the case this time, as the dream team of Ben Turland (Hendrix), Georgie Stone (Mackenzie), and Neighbours boss Jason Herbison put together a spectacular episode that will go down in history.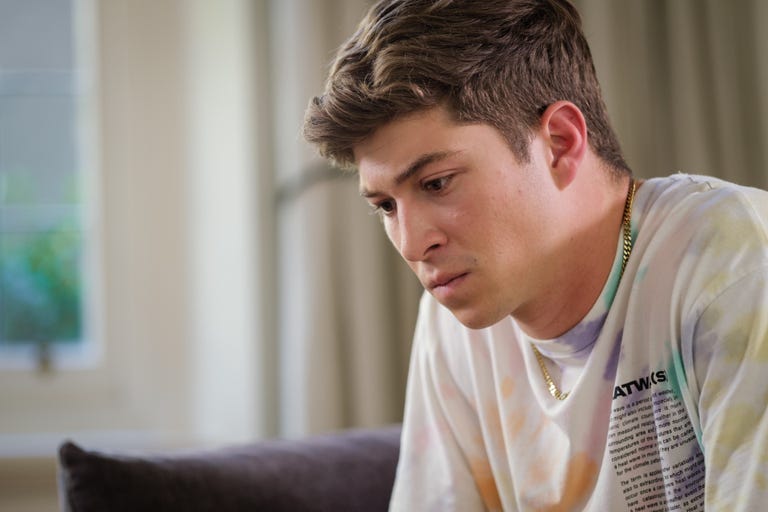 Fans have lauded Ben's performances since he joined the show in 2019, but he's been underutilised in recent months. As we go closer to the end of Neighbours, it's nice to see him take centre stage in his largest plot yet.
Georgie, who is already preparing for a bright future beyond Neighbours, has recently given some outstanding performances as Mackenzie's world has been devastated by the tragic news about Hendrix.
Jason Herbison is the showrunner of Neighbours, but he also creates scripts for the show, and he wrote this episode.
When he's writing, we know we're in for a treat, as evidenced by the drama's first-ever three-hander episode in 2015 and Sonya Rebecchi's heartbreaking leave in 2019.
A huge narrative like this merited the extra work, with the lack of other stories allowing for more engaging character-based moments, backstory exploration, and a slower pace — all of which viewers sometimes complain about in today's soaps.
We're still experiencing the benefits of Neighbours' off-site filming this year, with good location choices and high production values capping off a triumphant episode.
Few plays survive 37 years, much less do so in top shape. While it may seem unfair to lose Neighbours when it is producing such high-quality content, it appears that the cast and crew are determined to send it out on a positive note.