"I have absolutely nothing to regret."
Although they were only regular characters for a few weeks, Neighbours' Rodwell family made history by becoming the last family to move onto Ramsay Street.
Wendy, Andrew, and their daughter Sadie moved to Number 26 in May and played a significant role in Hendrix Greyson's emotional exit storyline.
Unfortunately, with the decision to end Neighbours, many of the planned storylines for the Rodwell family did not come to fruition.
Candice Leask, who played Wendy on Neighbours, recently spoke with Digital Spy about her experiences on the show.
Were you a fan of Neighbours before you got involved?
"I started watching Neighbours when I was about four years old." I watched it all the time at my grandmother's house until I went to university. I then began studying hard and performing in plays, so I didn't watch much television during that time period.
"I remember catching up and seeing what characters like Paul were up to when I'd flip through the channels." My auntie is a huge fan, so it gave us something to talk about, and she'd tell me all about it. It was fascinating because it seemed like we were discussing people I knew!
"This was my fifth audition for Neighbours, so I kept up with everything because I really wanted to be on the show." When I got the part, I kept watching to figure out how I was a part of the storyline even when I wasn't."
How did you get the part?
"I didn't know if I could be Wendy Rodwell when I got the audition and read it." I put it down, but when I read it again two days later, there were a lot more things to which I could relate.
"Two weeks passed after the audition, and I thought someone else had gotten the part." But then I got an email saying I'd been offered the role of Wendy. I was frozen because I didn't believe it would happen. Then I began jumping up and down, and I was ready to walk down Ramsay Street. I didn't get much sleep because I had three weeks to prepare!"
Wendy was only supposed to appear in one episode last year, but did you have any inkling that she might return?
"I knew Andrew Rodwell had already been an on-off character for a year and a half, so I assumed they were attempting to create another family."
"When I first met Lloyd [Will, who played Andrew], we looked at each other and said, 'We really want to be on the show!'" Let's see how much chemistry we can muster.' We were adamant about becoming a part of the Neighbours family.
"Andrew Thompson, one of Neighbours' producers, told us there was a chance we'd see more of Wendy." He took me around to meet everyone in production, including the writers, after I finished my second day of shooting. Later, I discovered that they were writing Wendy in more."
What does it feel like to be a part of the final Neighbours family?
"I'm grateful, and I know Lloyd and Emerald [Chan, who played Sadie] are as well." We wish it could have lasted longer. We had no idea we'd be the final Neighbours family when we signed up. It dawned on us when we learned that the show had lost its funding.
"What made it so cool was that we were multicultural." We're all Australians, but we all come from different backgrounds that contribute to how Neighbours has evolved over the past 37 years.
"It was really interesting when I sat back and thought, 'Wow, I'm a half Chinese actress and I'm going to be the last family on Neighbours.'" That's really cool, and it demonstrates how television has evolved."
Some viewers found Wendy irritating at first, but they soon warmed up to her. What did you think of the shifting reaction?
"At first, I was concerned. When I first started looking at responses online, there was a lot of animosity toward Wendy that I didn't expect to see.
"Then people realised Wendy was nice and had good intentions." That made me feel much better and safer. Because I don't want to be the person who becomes deafeningly quiet when the television is turned on!
"When it got positive, I actually felt like I started to understand Wendy a lot better."
Wendy had some memorable moments, such as when she accidentally destroyed the Ramsay Street history book. Can you clarify whether she was aware and rushed away, or whether she was unaware?
"She was completely unaware! I was mortified when I read the script for that. 'Oh great, everyone likes her now, they're getting used to her, and now it'll go back to people not liking her!' 'Why?' I wondered. However, it clearly set the tone for the new book."
Wendy had a tongue-in-cheek moment when she asked Lucy Robinson if her grandmother would be joining them…
"I really liked Anne Haddy's character. She struck me as simply iconic. When I think about the heart of the show, I think of her and Jim Robinson. I really meant it when I did that scene and said I'd love to meet her.
"'Correct me if I'm wrong, but it seemed like you really meant that,' said someone online." I meant it completely."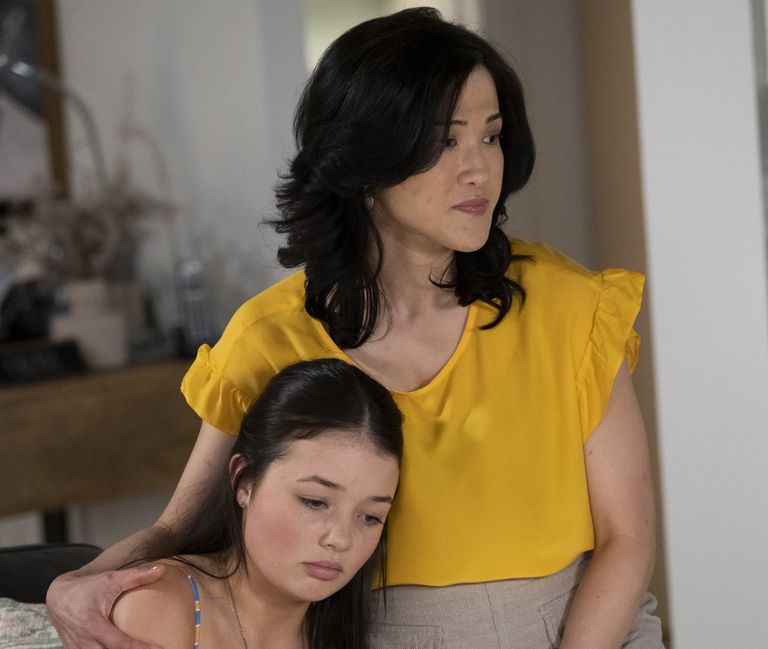 Is it strange that the majority of the reaction has come from fans on the other side of the world?
"I had no idea there were so many fans in the United Kingdom." All of the correspondence I've received from UK fans has been the most unexpected benefit of the job.
"It may seem strange, but I owe a lot to the Neighbours fans on Twitter." When Wendy first started out, she received a lot of personal comments. It's not about Wendy; it's about me.
"It really affected me. 'I'm not sure if I belong in this iconic show,' I thought. 'I'm really grateful that there are a few people who are really positive,' I said on Twitter. I like how you're speaking to me like a human.'
"Then I had a swarm of people telling me, 'No, I love Wendy.'" I was gaining a lot more followers, which helped keep me afloat. It taught me that I was hired for a reason. I still talk to people on Twitter, and I couldn't have done it without their encouragement."
Is this why you started posting behind-the-scenes photos and sneak peeks from the set?
"Yeah, that connection with the fans was extremely important to me." Being on the set of Neighbours felt magical to me because I'd been watching the show for so long.
"I know a lot of people in the UK can't travel over here, so giving them a little behind-the-scenes look meant a lot to me because that's what I'd want someone to do."
How was the Hendrix storyline filmed?
"To understand what was going on there, I watched a lot of Emerald's scenes with the fire, Aubrey, and Zara." It was fascinating to investigate because you are still developing in high school.
"It was a case of misguided bullying, but Sadie began to redeem herself." You could see the story unfolding as you would hope it would in real life. We were demonstrating to the audience that this level of bullying persists in high school."
You joined Neighbours just before it was cancelled, but were you aware that clouds of uncertainty were gathering?
"To be honest, I was completely unaware. My contract expired on June 10, but I reasoned, 'Maybe they'll just do a rollover and write a new contract.' I honestly didn't think anything of it because I was aware that there had been murmurs about what was happening with funding and what would happen with the show the previous year.
"I assumed it would continue as before, and we all crossed our fingers." It was day by day, and then when we heard, obviously the news broke, and everyone received text messages about it on a Sunday morning."
The Rodwells could only do so much towards the end, as returning characters and nostalgia took over the show. Did you feel cheated in any way? Or were you simply thankful for the time you had?
"I am eternally grateful." I know a lot of people who have been trying to get on the show for years. This was my fifth audition, and I'd decided not to worry about whether or not I got the part.
"I approached it as if it were a job with a beginning and an end, and I planned to savour every minute of it." "I truly believe I did that, and there is nothing I regret."
Did the team ever tell you about the Rodwells' plans that had to be scrapped?
"At first, there was supposed to be a younger son." Then, when we reached our deadline, they decided to keep Sadie as the daughter.
"Wendy's story would develop and unravel." They planned to investigate why she was the way she was. It would have been interesting to learn why she wanted everyone to like her. I believe she was nervous when she went to talk to people.
"I'm not sure if there were any planned scandals." I'm pretty sure one of us would have had an affair!"
Were you surprised when the Rodwells abruptly announced their intention to relocate in the final week?
"There is nothing in Erinsborough that surprises me!" To be honest, I thought they were just going with the flow. Because of the scene in which Wendy sat down with Andrew, they examined their finances and determined that they couldn't afford to relocate.
"Then, all of a sudden, everyone was doing it, and they thought, 'Maybe we can!'" That storyline was made possible by the essence of Erinsborough. 'Let's just do it because everyone else is doing it,' Wendy said."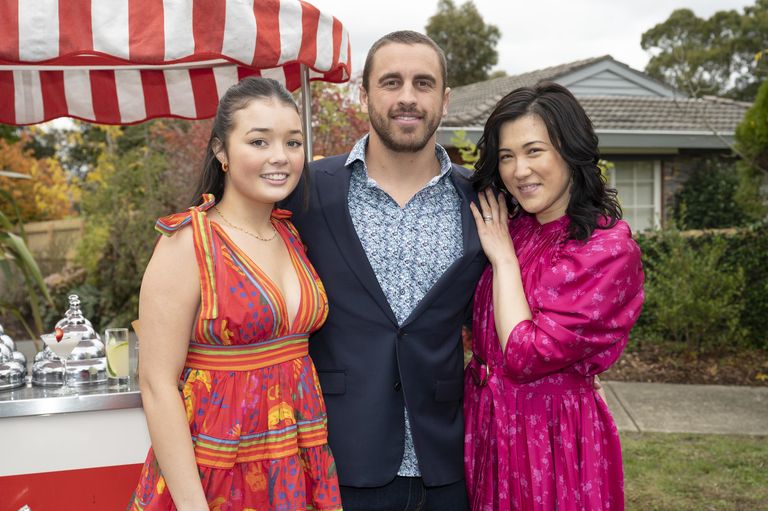 Are you relieved that they decided to stay?
"I'm relieved they did. Wendy and Terese and Jane would have been great friends, in my opinion. Once the frenzy of 'please like my daughter, like me, like my husband!' had subsided.
"I believe Wendy would have attempted to work her way up to manager of The Waterhole." Sadie would have done well. Our family would have demonstrated their acceptance."
How did you feel while filming the final scene with the street party?
"It was incredible. We were all there so early. They had to bring in so many hair and make-up artists. The calls began at 5.45 a.m. We were all shuttled out to the street around 9.30 a.m. We stayed until 4 p.m., and it was a bitterly cold day. The highest temperature was probably around 10 degrees, and most of us were dressed in dresses and spring clothes.
"When they said 'cut,' it was bittersweet. There were sprinkles of rain as we all gathered. There were many tears and hugs. But we weren't quite done. That marked the end of the show, but there was still work to be done, including the scene with the videos."
What are your plans for the future?
"Right now, I'm doing some presenting work." I'm coming off the high of how intense the hours at Neighbours were, and I took a little break with my cats! I'm enjoying some downtime, but I'm also attending a lot of auditions. "I'm back in the pool with everyone else."
Over the years, we haven't seen much East Asian representation in the soaps. Do you think the Rodwells' success will pave the way for more?
"Wouldn't that be fantastic?" I grew up not seeing much of that, so it was wonderful to be a part of that mixed family. I hope there are more Asian and mixed-race families in the soap industry.
"I don't think I've seen much of it, but times are changing and that's coming into play." We can only keep going. Nobody knows what people are looking for. I'm hoping the Rodwells can help bring that in through soaps. That would be fantastic."