In the TV show Home and Away, get to know rock band Lyrik members Bob (Rob Mallett), Eden (Stephanie Panozzo), Remi (Adam Rowland), and Kirby (Angelina Thomson).
The only thing you will hear as you stroll along the beach in Summer Bay most of the time is the sound of the ocean waves gently breaking.
However, four newcomers disrupt the tranquilly on today's episode of Home and Away when they show up at the Parata family's home and put on an impromptu concert!
The news that Felicity Newman (Jacqui Purvis) is the new co-owner of Salt has her buzzing when she gets home from the city.
Felicity has joined Mackenzie Booth (Emily Weir) as equal partners with the money she received from her father, and the two have gone to a solicitor to formalise their relationship.
Tane Parata (Ethan Browne) offers his fiancée a joyful kiss after seeing Felicity again.
Nikau (Kawakawa Fox-Reo) quickly leaves as they become distracted and head upstairs for some afternoon joy because they don't seem to notice him.
But before long, a noise from outside interrupts their heated afternoon passion.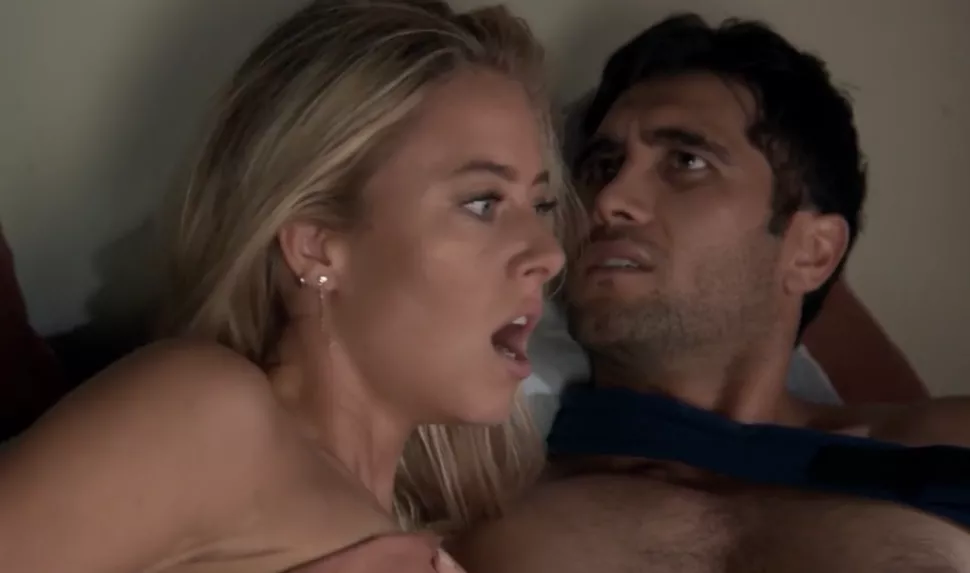 The couple is shocked to discover a band performing on the lawn when they go to check the sounds!
Tane is confused and doesn't know who these people are, but it soon becomes obvious that Felicity knows them because she meets them warmly and begins singing with them.
The loud rockers are actually Felicity's former city friends, it turns out!
Bob, the band's lead vocalist, Kirby, Eden, and Remi are the other members.
Tane is a little irritated by the boisterous group as they take over the house and are obviously in the mood for a party. He chooses to let them handle things because he is glad to see Felicity back with her friends.
Tane is afterwards not nearly as pleased to find that the band will be staying the night.
Tane agrees to it because Felicity is thrilled to have her old pals stay, but he makes it plain that they can only stay for one night.
Sam Barrett's character, Chloe Anderson, is working two jobs: one at the Diner and one as the gym's administrative director.
Even though it's difficult, it becomes even more challenging when Tane neglects to step in at the gym when Chloe is meant to begin a shift at the Diner.
Chloe arrives an hour late for her shift at the Diner, where manager Marilyn Chambers (Emily Symons) recommends that perhaps it's time for her to choose between her two professions while Tane spends some alone time with Felicity.
Nikau Parata, a lifeguard at Summer Bay, is perplexed when Shane Withington's character, John Palmer, summons him in to work on his day off. Why is he there while the beach is completely patrolled?
But everything makes sense when Nikau walks into the Surf Club and hears John say that he's been nominated for a courage award and that the place is packed with people!
It comes out that Nikau was nominated by Naomi Stevens (Jamaica Vaughan) after he saved her sister a few weeks prior.
In anticipation of the next awards ceremony, Naomi offers to accompany Nikau, who is anxious about having to give a speech at the opulent gathering.
Nikau is unsure, though. That wouldn't be regarded as a date, right?
Ziggy Astoni (Sophie Dillman), who will replace Justin Morgan (James Stewart) as Theo Poulos' apprentice supervisor following his suspension, is torn about doing so.
If she didn't do it, Theo wouldn't be able to complete his apprenticeship, thus she would have to forgo the road trip she had intended to do with her lover Dean Thompson (Patrick O'Connor).
Ziggy suggests to Justin that she take over as Theo's apprentice supervisor after some encouragement from her partner and considerable thought!
Theo and Justin can now unwind with ease.
Channel 5 will continue to air Home and Away every day at 1:15 PM.