This week in the Bay, there will be plenty of surprises and secrets, the biggest of which will be the kidnapping of Bella (Courtney Miller), Nikau (Kawakawa Fox-Reo), Chloe (Sam Barrett), and Ryder (Lukas Radovich) by a gang of thugs. A truck drives up next to them on their way to a night out, and they are packed into the back before being locked up in a crate in the wilderness…
Meanwhile, Christian (Ditch Davey) and Tori (Penny McNamee) investigate the circumstances surrounding Lewis' (Luke Arnold) wife Anna's surgery and uncover a shocking truth. In addition, Martha (Belinda Giblin) plots to conceal her estranged son Kieran (Rick Donald) in a spare caravan.
Christian discovers Lewis' baby secret
Christian wanted to look up the specifics of the surgery he performed after Lewis blew up in front of him about Anna's death. He is devastated to remember the day it happened while sitting with Tori – but Tori discovers another detail. Anna was hoping…
Christian tries to confront the situation head on and flies to Salt to speak with Lewis. He describes how Anna's injuries were so severe that there wasn't anything he – or anyone else – could have done. His apologies are so genuine that they contradict Lewis' view of him, sending him into a tailspin…
Jasmine and Lewis share a kiss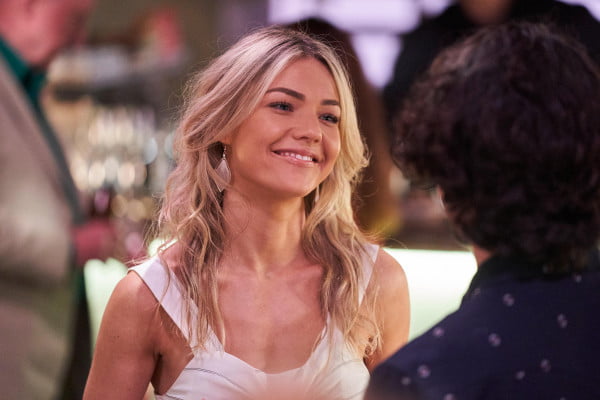 Lewis is struggling with the fallout from Christian's apology, recognising that it's past time for him to move on from the sadness and rage he's endured for the past few years. He had previously viewed Christian as an arrogant man who takes needless chances, but he now needs to let that picture go.
On the beach with Jasmine (Sam Frost), he shares the specifics of Anna's pregnancy and how he doesn't know what to do with himself now that his anger at Christian has subsided. However, he says he is now hopeful about the future, and the two kiss…
Susie and Marilyn in catty showdown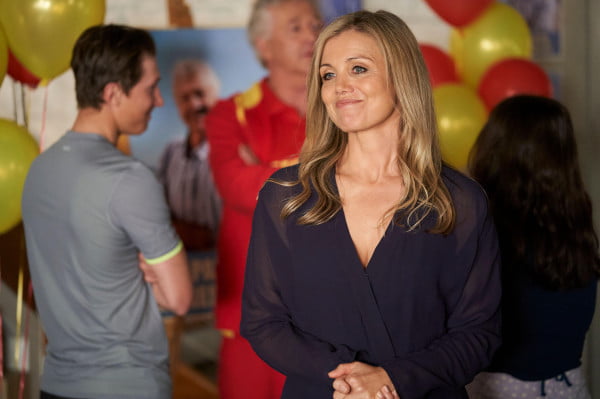 Susie (Bridie Carter) has orchestrated a fruitful dinner with Surf Club committee members to support John's (Shane Withington) presidential campaign, and the election day has arrived. Though Alf (Ray Meagher) takes a back seat and avoids the situation, unable to believe anyone will vote for Palmer, Roo (Georgie Parker) shares her suspicions that John might possibly win.
Following the performance, Marilyn (Emily Symons) approaches John to express her displeasure about how he has been handling Alf. Susie, on the other hand, quickly interjects, saying he doesn't think it's any of her business. Marilyn is forced to leave when John sides with Susie.
Dean and Amber make a major decision
Dean (Patrick O'Connor) is overjoyed that Amber (Madeleine Jevic) and Jai (River Jarvis) have returned to the Bay. Dean is overjoyed that the couple will be returning permanently after deciding that it is time to concentrate on projecting a united front for the sake of their son. When they visit Dean's apartment in the evening, he invites them to stay until it gets late.
Amber is preoccupied the next morning with finding a place for her to live with Jai. Since she is unemployed, she has trouble gaining acceptance anywhere, which causes Dean to wonder. He makes a suggestion: why doesn't Amber just move in with him and their son?
Martha secretly plans to hide Kieran
Since her estranged son Kieran unexpectedly left the Bay, Martha has struggled with his absence. She's started seeing him in different places, talking to the delusion she's built in her mind that her son is still sneaking back to see her.
She prepares a spare van in the caravan park and fills it with fresh clothes and shoes while she wants to believe her son has returned. She calls him and leaves a voicemail informing him that she has found a safe place for him to hide where no one can find him…
Ari makes a final decision about his love life
Ari's (Rob Kipa-Williams) and Mackenzie's (Emily Weir) relationship has recently been thrown into disarray by the return of Ari's old flame Mia (Anna Samson), who has reawakened long-dormant feelings. Ari takes the tough decision to end his friendship with Mac as he struggles with the continuing uncertainty.
He leaves a heartbroken Mac behind and starts to think more about Mia. They meet at the gym, and the sexual tension is palpable. Later, after they run into each other, Mia discovers from Mac that their relationship is over, and she asks Ari about it. He says it's the best thing to do and starts working the charm. Will Mia be able to hold out?
Mackenzie reveals baby bombshell
When Ziggy (Sophie Dillman) comes home, she finds Mackenzie weeping on the sofa and is saddened to learn that Ari has abandoned her. However, she isn't prepared for the next surprise Mac drops – she's pregnant, and Ari has no idea he might be a dad.
She inquires as to how long Mac has heard, and she admits that it has only been a few weeks. Mac says she isn't sure whether she can tell Ari, and Ziggy asks if she will. After all, she doesn't want to be forced to stay with him. When Mac informs Dean about the situation, his response isn't exactly the same as Ziggy's…
Bella, Nikau, Ryder and Chloe get kidnapped
Bella and Nikau are getting increasingly annoyed by Chloe and Ryder's relentless bickering, and they are perplexed as to how two people can dislike each other so much. After a tumultuous evening at Bella's house in which the two spat slurs at each other, she and Nikau decide they need to devise a strategy.
Bella drags the two rivals out to Yabbie Creek for a big night out after they reject lunch. However, as they are waiting for the bus, a van drives up alongside them and a gang of thugs drags them into it. They are put in a dark container and left there for the night.