Sam Frost has reinvented herself as an actress with a four-year-old reality star star star at Home and Away this year.
The star looks bright on Tuesday, beaming in a boho frock while shooting the soap scenes.
The 31-year-old smiled from ear to ear while walking the sand of Sydney's Palm Beach.
Former Bachelorette model, with a beautiful turquoise hue, opted for a glamorous bohemian number.
Flowing, caramel-toned cups flowing from the widened sleeves and the knee-high hemline were included.
A deep V-neck revealed a hint of cleavage, and a slender figure of grace revealed a cinched-in belt.
A floral pattern appeared on the skirt, flowing around the loose style of the dress.
Sam added a pair of beige high heels, which, despite having to navigate the sand under her feet, skilfully walked on, keeping a straw clutch with the details of the shell.
She chose a bronze palette with a natural shine and a purple pink lipstick for her makeup.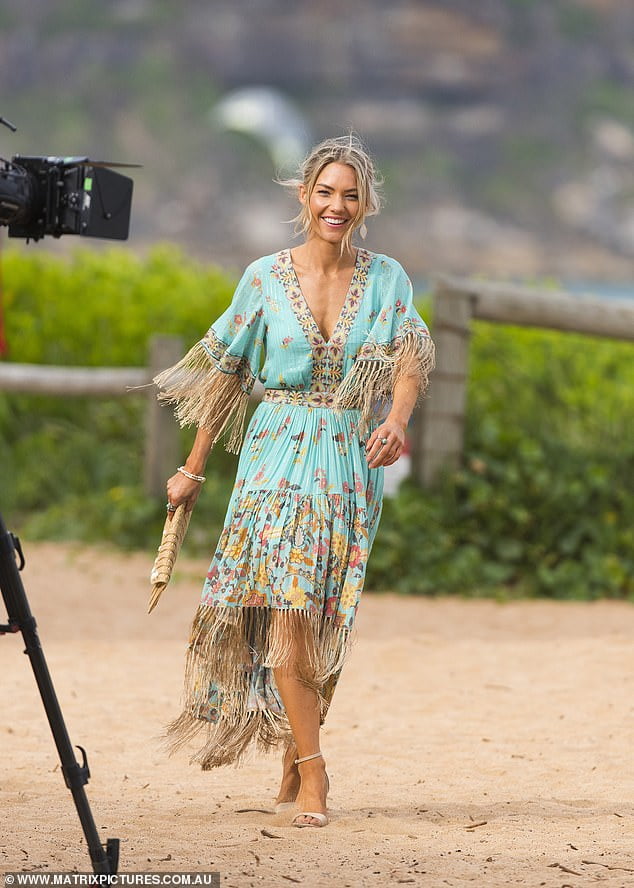 In loose do, the blonde's hair was partially pulled off her forehead, and she added a pair of teardrop shaped earrings.
With her co-stars, Lukas Radovich and Sam Barrett, Sam shot scenes that seemed to be set up around a food truck or a festival setting.
This week, after spending Christmas holidays with her family in Melbourne, the actress returned to Sydney to start filming, the Daily Telegraph reported on Thursday.
The blonde beauty has taken pictures of her brothers Josh and Alex from her festive family reunion.
'Homestic. At last in Melbourne with my brothers. Just two of the four of them. I can't even tell you how excited I am!!! It feels so full in my heart," she said.
Sam's return to the set comes as her character, Jasmine Delaney, embarks on a shimmering affair with Luke Arnold's Lewis Hayes.