Dimitri (Salvatore Coco) hasn't had much luck lately, with Leah (Ada Nicodemou) and Justin (James Stewart) discovering about his prior violence against Theo (Matt Evans) and his kid refusing to engage with him. As Irene (Lynne McGranger) and Logan (Harley Bonner) head towards the Surf Club, they notice a furious Dimitri frantically packing his belongings and leaving desperate voicemails for Theo on his phone in the car park.
Meanwhile, Theo is chastising himself for giving Dimitri another chance, but Leah reassures him that it is his father who is at fault. They're interrupted by a phone call from Irene, who says she saw Dimitri working up a sweat outside. When Leah tries to call Justin, he can barely get off the floor to answer the phone, and when he tries to call her back, he fades away again, leaving Leah worried.
When they arrive at the garage, they are shocked to see Justin unconscious on the floor. They call for assistance, and when Leah inquires about what transpired, Justin mutters 'Dimitri.' Theo is terrified of his father's abilities, and the situation worsens when Justin arrives at the hospital and begins to have a seizure.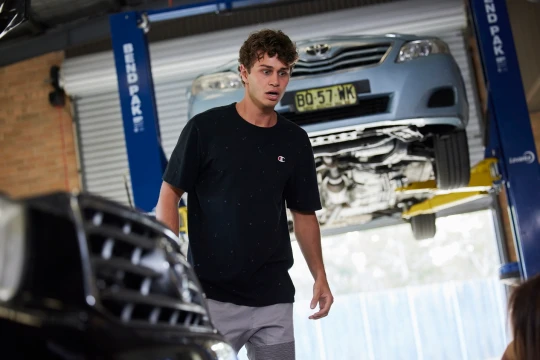 The police arrive to take Justin's statement regarding the attack, but he dismisses them, not wanting to make things worse for Leah and Theo. Leah, on the other hand, has had enough and decides to call the cops herself. Theo goes to face his father as she gives a statement, but Dimitri dismisses the incident with Justin and rapidly becomes enraged again.
Dimitri (Nicholas Cartwright) grabs Theo by the collar and tries to drag him into the car, and Cash (Nicholas Cartwright) intervenes. Everyone arrives at the station shortly after, and Cash does separate interviews with Dimitri and Theo. Dimitri tries to downplay it, but Theo believes it's time to speak up and confesses his father's history of abuse… Dimitri might be facing jail time after being charged with violence and child abuse.