The executive producer of Neighbours, Jason Herbison, has released a few images from the final scene of the long-running programme.
The Australian soap opera garnered a lot of accolades last week for its emotional Ramsay Street closing scene, which included a mixture of the current cast, returning actors, and even cameos from deceased characters.
Herbison has now made several passages from the script for this iconic moment available as a special bonus for readers of Digital Spy.
Fans may observe how the significant event was described on the website and how it was finally shown on the shooting day.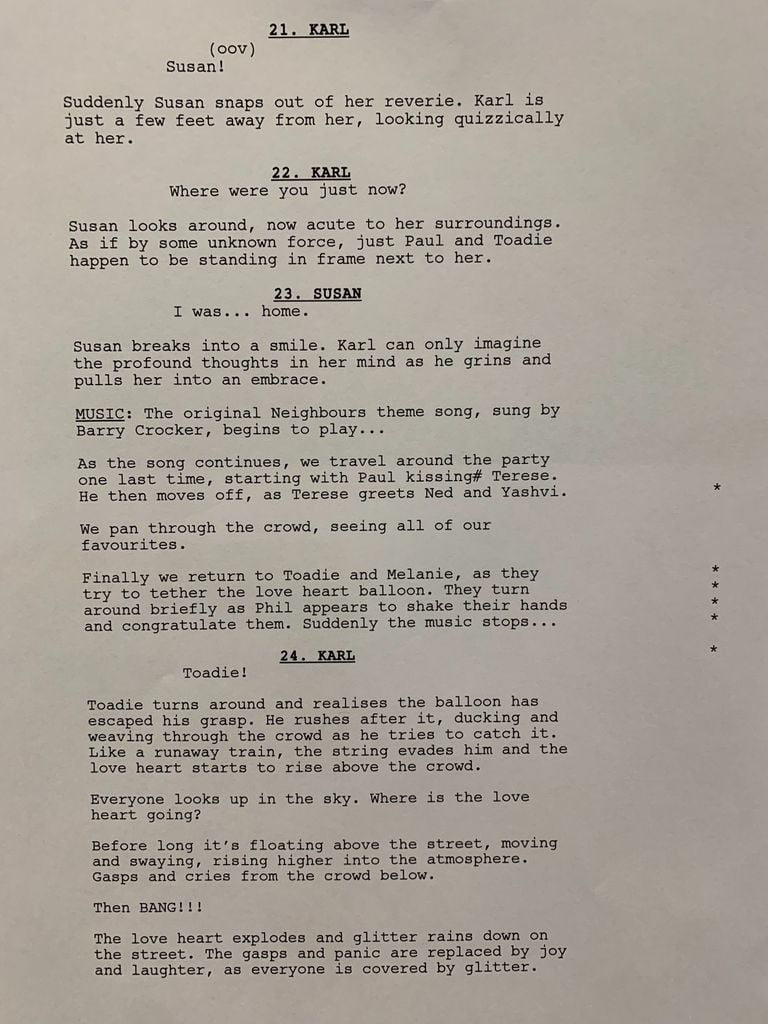 The hour-long finale episode was written by Herbison, who took over as the soap's producer in 2013.
He stated that it was always his intention to end the event with a huge street celebration and Susan Kennedy's much-loved monologue in an interview with Digital Spy this week.
Herbison stated: "I've always seen the very last moments. The happy street party, Susan's narration, the deceased characters, the balloon, the original theme music, and the audience message. I was aware that I wanted everyone present for these last seconds on the street."
Regarding his decision to make Susan the focal point of the last sequence, he continued: "Since Susan is the soul of Ramsay Street, I've always wanted to end the programme with her. Without allowing Jackie [Woodburne] to give us one more once-in-a-lifetime performance, how could I close the show?
"Actually, writing it was the section of the screenplay that was easiest. I simply considered my feelings towards the programme and projected them into Susan's voice. I must give director Scott Major and our production designer Peta Lawson major props for bringing the whole thing to life.
"I recall telling them about the balloon, and they must have thought I was bit insane, but everyone helped make the idea a reality."