In the three-part episode, Heather Frazer (Sofia Nolan), Marilyn Chambers's hidden child, held several Summer Bay locals captive in an effort to exact revenge on Marilyn for abandoning her when she was a baby.
Marilyn had an affair with Tim, a married man, while she was working as a cleaner while backpacking in 1995. Tim was Marilyn's boss at the time.
It has come to light that Heather's adopted mother has always harboured resentment toward Heather and made her life miserable. Tim and his wife persuaded Marilyn to give them the baby, who they then adopted as their own.
After 27 years, Heather has located Marilyn, her birth mother, in Summer Bay. But instead of attempting to connect with her mother, she wanted to get even with her; this desire culminated in tonight's tragic incidents.
For weeks, the tenseness has been increasing. Despite the fact that Marilyn and Heather have acknowledged one another as mother and daughter, Marilyn has wished for Heather's true identity to remain private because she was concerned that her friends would never forgive her for maintaining such a significant secret for nearly three decades.
Heather was even more enraged by this, and she has grown increasingly impatient with Marilyn's popularity in Summer Bay and her friends' willingness to overlook her transgressions.
Marilyn even accepted responsibility for cutting John's (Shane Withington) tyres, which Heather did after John started to suspect her. Heather was furious when even that failed to convince Maz's friends to turn against her.
In the episode that aired on Wednesday and will be seen in the UK in November, Heather went back to Summer Bay and invited Marilyn to a secluded country home, saying she wanted to make apologies with her and her friends.
To express her regret and ask for their pardon, she suggested to Maz that they hold a brunch and invite her best friends.
She did, however, have a cunning scheme.
She used a heavy metal candlestick to knock Marilyn out, and when Ray Meagher's Alf, Ada Nicodemou's Leah, Georgie Parker's Roo, and Lynne McGranger's Irene arrived at the manor house, she rendered them unconscious by serving them drinks laced with sleeping pills before tying them up in the dining room.
Marilyn was compelled to observe from another room, where Heather had restrained her and placed a TV in front of her, allowing her to see her friends' misery from a distance.
Alf suffered the most since the poisoned beverage made his underlying heart problem worse. His buddies pleaded with Heather to let him go so he could get to the hospital as his chest tightened and his breathing grew laborious.
Heather made the decision to hold onto her hostages even after Marilyn told her loved ones the truth about her, reasoning that Alf's suffering would ultimately bring her justice.
The sequences were filmed at Iandra Castle, a sizable farmstead 30 kilometres north of Young in New South Wales' Central West. The complex is made up of the actual homestead, stables, surrounding gardens and parkland, a chapel, and a cemetery, but the large homestead and its balcony were the centre of the stressful hostage situation.
The ensemble travelled there in May of this year, five hours away from the soap opera's normal setting in Sydney's Palm Beach.
A few members of the cast posted pictures from the shoot on Instagram just before Thursday's shows there aired.
The actor who portrays Cash, Nicholas Cartwright (@ nicholas cartwright_), posted:
"It was a lot of fun filming tonight's episode of @homeandaway at Landra [sic] Castle. Tonight at 7 o'clock on 7, find out what all the hype is about. Wishing Marilyn luck!
Cash was instrumental in the rescue as he and Rose (Kirsty Marillier) frantically searched the house for the captive occupants.
He was also compelled to attempt to reason with Heather when she climbed onto the brink of a balcony on the homestead before she lost her balance and plummeted.
Georgie Parker shared the following:
We all enjoyed tonight's episode, which was filmed in the stunning city of Young. It was difficult, entertaining, and taxing. Catch it if you can because @sofianolan and @emilysymons Take a chance — #iandracastle
The pictures show Ray Meagher and Emily Symons unwinding between takes and Ray also snapping a picture of Lynne McGranger and Ada Nicodemou.
Lynne McGranger shared the following:
Oh, the fun we had filming this week's episodes in beautiful Young. (And of course @ nicholas cartwright_ @kirstymarillier @lukevanos and our courageous leader @lucyaddario and all our great crew ) #iandracastle @adanicodemou @emilysymons_ @georgieparker @sofianolan @dannyracodirector #RayMeagher @homeandaway
In Lynne's pictures, she and Ada may be seen in front of the "Welcome to Young" sign, and the cast is pictured in the dining room in between takes, with Heather's sumptuous spread in the background.
A series of behind-the-scenes pictures of the cast and crew filming the disturbing sequences were also released by Greg Stone, who oversees the art department on Home and Away.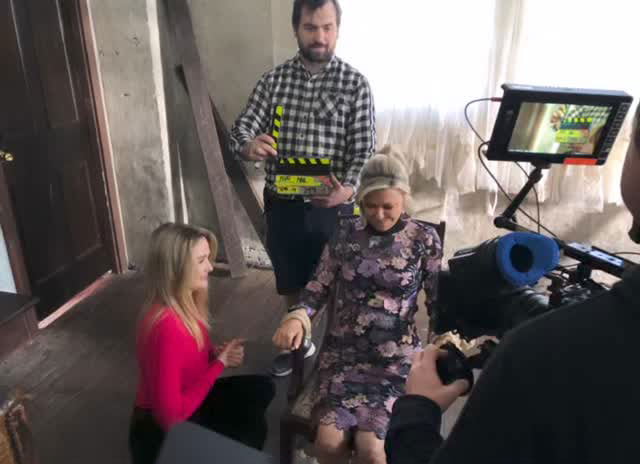 When a crew member wields a clapperboard before the moment where Marilyn awakens to find herself bound to a chair and when shots are being framed with a crew member standing in for Marilyn, we get to view the scenes from behind the camera.
As the photos are being set up, Matthew Grossman steps in for Marilyn.
A screenplay is still in Emily Symons' hands as they perform the scenario, and she sits down on her chair with a bottle of water next to her.
Danny Raco, who previously portrayed Alex Poulos, Leah's brother, is identified in one of the pictures. Danny is now a show director, and he oversaw the filming at Iandra Castle.
Sofia Nolan can be seen clutching a hot water bottle in one of the images, illustrating the fact that the drama's Summer Bay set isn't always as warm as it appears on TV.
Crew members like director Danny Raco (@dannyracodirector), Lyndsey Hartshorn (@lennynoogs), Marcus Hides (@marcusdop), Bruce Murray (@mastergrips), Danie Sims (@sup.darnell_), studio dresser Megan Norris (@megannorris creative), and camera assistant Danny O'Sullivan (@234dos) were tagged in the behind-the
In addition, Ray Meagher is seen on a stretcher as his character Alf gets ready to be loaded into the back of an ambulance in one of the behind-the-scenes images shared to the platform by Lucy Addario, the show's series producer.
Even though her loved ones know she wasn't at fault, the drama seems destined to stretch well into next week as Marilyn flees to avoid her embarrassment. Are her friends going to be able to find her?
In one of the episodes, Dean and Ziggy went in for their 12-week scan and were astonished to learn that Ziggy was actually 18 weeks along.
They both beaming, Ziggy said, "Looks like we'll be seeing the grommet a lot sooner than we imagined."