Terese Willis (Rebekah Elmaloglou) made it clear in Neighbours that she and Paul Robinson (Stefan Dennis) will never, ever reconcile following his latest betrayal.
Basically, ever.
Last year, the former Lassiter's general manager divorced with Paul, but his near-death experience during Roxy and Kyle's wedding revived their love.
Paul, on the other hand, wrecked their future by reverting to form and lying, paying a doctor to make it appear that his condition was worse than it was in order for Terese to stay by his bedside.
Terese eventually discovered the truth and, horrified by his treachery, told him there was no turning back before requesting a divorce.
Since then, Paul has gone out of his way to make life miserable for Terese, refusing to cooperate in divorce proceedings and manipulating her at every turn.
Meanwhile, Terese has found refuge in Glen Donnelly (Richard Huggett), which has only served to enrage Paul.
Despite their dislike for each other, actress Rebekah Elmaloglou believes Terese's heart will always belong to Paul.
'I know they're going through a revoltingly ugly divorce right now, but I'm hoping – though it may be too late! – that something happens with Terese and Paul before the show concludes,' she told Metro.co.uk.
'We're keeping our fingers crossed!
'In the meantime, Glen and Terese are a good match. But we have no idea what's been going on in the last few weeks, so anything may happen!'
Paul and Terese's feud is at an all-time high, with the former orchestrating an elaborate conspiracy to get the latter out of Lassiters completely.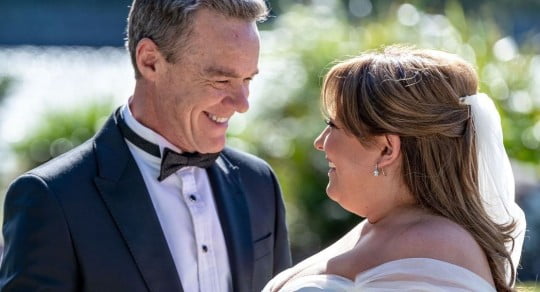 Despite the fact that Paul was responsible for the hotel chain's loss of thousands of pounds, Terese was fired.
'I guess Terese is over Lassiters,' says the narrator. Rebekah informed us of the plot's progress. 'I'm hopeful that another opportunity may present itself for her, but I've always enjoyed being the Queen of Lassiters! [laughs]. But, as far as Paul is concerned, there will undoubtedly be some type of retaliation!'
Consider us perplexed.
After 37 years on the air, Neighbours will come to an end in August. With just over eight weeks left, one can't help but wonder where Paul and Terese will be when the final episode's credits roll.
'I believe there's a little more acceptance with Terese and Paul, but there's also a really strong connection that's come through,' Rebekah added.
'I have no idea where that leads, and I'd be astonished if it changed dramatically in the last few weeks.' I believe they will continue to explore their connection. I sincerely hope they do! It'd be a shame if the episode ended with them loathing each other.'