The media can't get enough of the 37-year-old soap opera, which closes on Thursday with a bittersweet 90-minute conclusion, as the protracted goodbye to Neighbours approaches its final phase.
While Federation Square is hosting a Neighbours finale watch party beginning at 6 p.m. with complimentary popcorn, Melbourne radio stations are preparing for live broadcasts from the made-up Ramsay Street. Kylie Minogue, Jason Donovan, Guy Pearce, Peter O'Brien, Natalie Bassingthwaighte, Olympia Valance, Ian Smith, and Daniel MacPherson are just a few of the former cast members who will appear in 90-minute episodes that will air on Ten over the course of four nights.
The "heritage cast," which consists of Stefan Dennis, Jackie Woodburne, Alan Fletcher, and Ryan Moloney, has been in demand for interviews and appearances on British TV shows like Lorraine, This Morning, and Loose Women. Loose Women even flew a crew out from London to film behind-the-scenes footage and conduct interviews. However, the media blitz is even more intense in the UK.
The BBC crew from Sydney spent a half-day on location, and Neighbours stars were lined up to appear on chat programmes like Good Morning Britain, The Last Leg, and the Jeremy Vine Show. The entire following week, the cast will be occupied with interviews with British radio stations.
Plans have been made to prevent spoilers as anticipation for the finale, in which Kylie and Jason are the main characters, grows. Fans of Neighbours have been encouraged to prevent spoilers by muting the hashtag #AusPage, which will automatically obscure any tweets from the official Neighbours Twitter account. The UK will air the show a day later than Channel 10 and Ireland five days later.
The relationship between the UK and the Australian broadcaster may have ended with Neighbours, but it has not.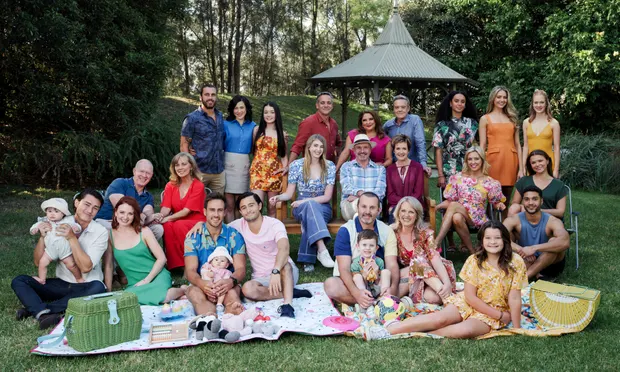 Despite strong ratings of 1.5 million people every day, the UK's Channel 5, which funded the programme, announced its withdrawal from the project in February. However, Riptide, an Australian co-production from Fremantle Australia, is already in the works with Ten and Channel 5.
The thriller was written by Neighbours executive producer Jason Herbison and features former Neighbours cast members Peter O'Brien, Pia Miranda, Ally Fowler, and UK actor Jo Joyner.
Next month, Kylie and Jason will re-release their popular duet, Especially For You.