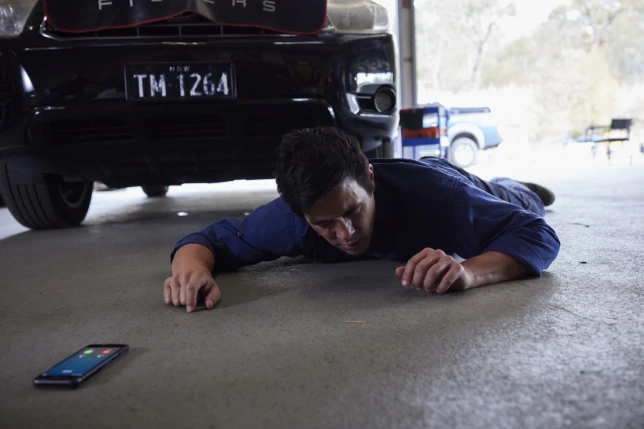 Dimitri's fury is directed at the Morgan brothers as he struggles to reconcile with Theo. Justin is caught in the crossfire.
Theo (Matt Evans) has been visiting his mother in the city, and now that he's returned, Leah (Ada Nicodemou) and Marilyn (Emily Symons) are relieved to discover that his moods have improved.
John (Shane Withington) and Justin (James Stewart) agree to keep an eye out for Dimitri (Salvatore Coco) so that Theo isn't in danger, but John soon learns that Dimitri has returned to town and is loitering by the beach.
Theo is sitting at home alone when he hears a knock at the door and sees his father.
Theo assumed Dimitri had left, but he yanks open the door, demanding that they speak and insisting that they are only done when he says so.
Dimitri claims Theo has been lying to the family in order to turn them against him, and the debate becomes increasingly heated – until Ryder (Lukas Radovich) arrives and sends Dimitri away.
Later, Leah prepares a large feast to divert everyone's attention away from Theo, who has gone to Salt to meet Dimitri.
Theo's father is quick to deceive his kid, claiming that all he wants to do is instil the appropriate values and that family always sticks together.
When Theo starts to soften, Dimitri recommends they start over. When Leah later learns of their talk at the house, she confronts her brother about his deception.
Dimitri is enraged and tries to persuade Theo to return to his side. However, Leah has reasoned with her nephew, who tells his father to back off.
Dimitri reluctantly departs, but his wrath persists, and he proceeds to the garage.
Dimitri's fury grows as Justin tells him that he needs to take responsibility for what he's done, but this only fuels his rage, and he punches the mechanic to the ground.
Later, Leah receives an unusual phone call from Justin and hurries to the garage, where she finds him comatose on the floor.
When Theo realises how his father's violent behaviour is affecting everyone around him as well as himself, he is taken aback.
Justin's health remains precarious after being brought to the hospital, and his concussion quickly evolves into a seizure while Theo looks on in despair.