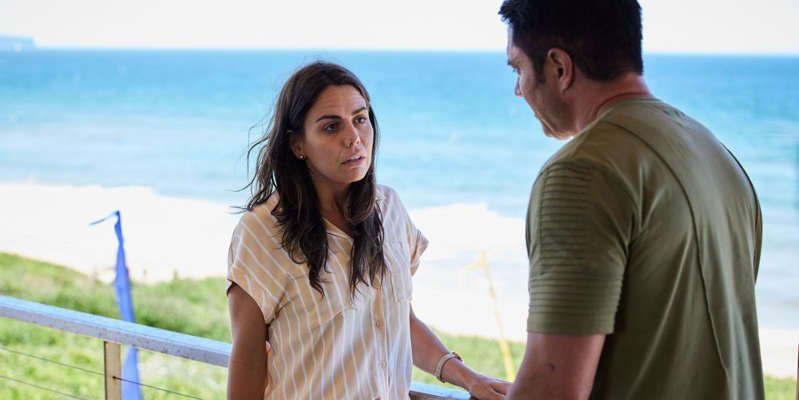 Friday, May 14, 2021 at 13:15 and 18:00 on Channel 5 in the United Kingdom
Thursday, April 15, 2021, at 19:30 a.m. on Channel 7 in Australia.
Mackenzie is crying at the kitchen table as Ziggy gets home late at night. Mac attempts to flee, but Ziggy begs her to reveal herself. Mac tells Ziggy that she feels like she's losing everything, including the boy, which is strange because she didn't want to hold it in the first place. Mac acknowledges that she loves Ari, but she knows she needs to move on. She doesn't understand why she's losing control because she's normally in command.
Mac plans to return to work the next morning, much to Ziggy's dismay, as she was supposed to be resting. Ari and Mia arrive at work, and Ari attempts to speak to Mac, who is both mentally and physically distraught.
Mac puts on a brave face and walks away from Ari, who is baffled as to why Mac can't bear being in the same room with her. Mac, who is experiencing severe cramps, collapses downstairs with Tane and Ziggy.
Meanwhile, Justin is in agony late at night and heads to the kitchen to get his painkillers. He goes to put them back because he realises it hasn't been long enough since his last one. When the suffering becomes unbearable, he nevertheless reaches for them. Justin is happy and ready to work the next day after a good night's sleep.
Someone starts walking past the cabin windows late at night, which frightens Ryder. He wakes up Chloe and freaks out when the door handle begins rattling. Nikau and Bella emerge from their room and inform him that he has consumed too much alcohol. They return to their room and chuckle, knowing that it is they who are playing tricks on them as retaliation for ruining their getaway.
When Nikau and Bella make them breakfast the next morning, Ryder and Chloe are suspicious. Bella finds that someone took pictures of them all sleeping the night before as she looks through her camera. Ryder and Chloe look truly terrified as they tell a ghost story, causing Ryder to bolt from the room and appear to hit his head.
Bella and Nikau are terrified, believing they have seriously injured Ryder. However, it turns out that Chloe and Ryder had been duped all along and had duped them back. The four of them agree not to play pranks on each other anymore. Chloe and Ryder leave, but Nikau looks at their pictures and notices a dark figure in one of them, so they decide to leave as well.