Home and Away spoilers are planned for UK and Australian audiences, including the identity of Witness X.
Home and Away may be back on screen in the UK, but in Australia, viewers are already eagerly anticipating the launch of the 2021 season of the show at the beginning of February.
Summer Bay soap has been out of the air in Oz since November, when the final episode of the low-key season prompted a mixed response from viewers.
Luckily, there will be no lack of excitement in the new season, and the spoilers have fallen to the left, right and middle in recent weeks, thanks to official trailers and exciting casting announcements.
1. Colby's fight for life

When Home and Away ended the year at the end of November, Colby was in jail in extreme danger as some of his fellow inmates surrounded him threateningly.
Colby had been trying to stay quiet about his background as a police officer in order to avoid being a target behind bars, but once his secret was out, some of the prisoners seemed to have an axe to grind.
As seen in a recent trailer, Colby will be left in jeopardy after the altercation and will be rushed to the hospital where he fights for his life.
Tim Franklin, who plays Colby, is believed to have finished shooting for the show last year. It seems like we're nearing the end of Colby's time in the show, but will he die?
2. Jasmine's new romance
Home and Away 2020 season finale debuted the character of Lewis Hayes, played by Luke Arnold. By chance, Lewis crossed paths with his old flame, Jasmine, and obviously enjoyed catching up.
In the new season, Jasmine's encounter with Lewis will take a romantic turn, giving her an opportunity to move on after Robbo's tragic death.
Luke recently told TV Tonight, "They had a real bond, there were flirty moments, but it never really turned into a relationship.
"The first part of the story is really about him working out whether he can move on from a tragedy he's gone through recently, and whether Jasmine can play a part in that."
3. Christian's past is revealed
The arrival of Lewis would also ignite Christian's intriguing new storyline. Lewis works as a nurse, and he's alarmed to remember him from the past when he crosses paths with Christian at the hospital.
Lewis blames the surgeon for the death of his late partner and threatens to warn Jasmine that Christian is a threat to his patients. While he soon understands that it's best not to make a scene, from now on he vows to watch Christian as a hawk.
Luke said to Who's Magazine: Lewis wants to get into it with Ditch Davey's character Christian Green, but when he reconnects with Jasmine, he's torn between his burgeoning new relationship and his building fixation with Christian.
4. Martha's son reveals his dark side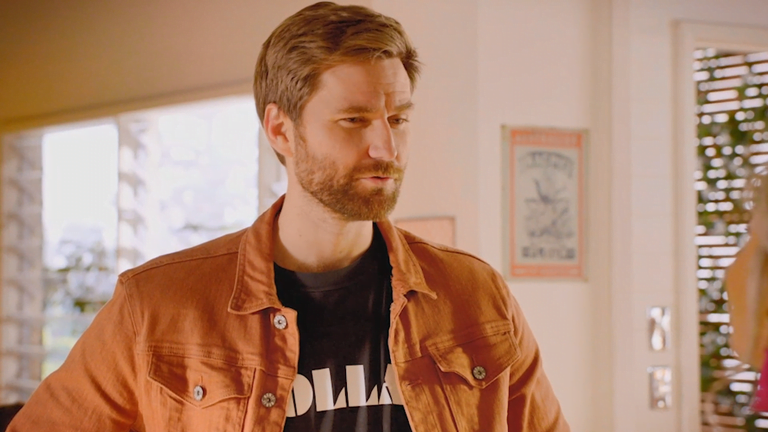 The final Australian episodes of 2020 also featured the arrival of another new character, Martha's secret son Kieran, played by Rick Donald. Martha had been away from Kieran for some time and had been hesitant to trust her family with their troubled past.
Kieran is an alcoholic who is recovering and has already displayed a violent side in episodes broadcast in Australia. The new season will see Alf grow uneasy about his role in the Bay, but Martha can't help defending her son. Is Alf right to be concerned, and could that cause a rift between the Stewarts?
5. Ari and Tane remain in danger

The 2020 season ended with Tane and his family still in danger, thanks to a gang that owes money to him. Tane and Ari had agreed to one more questionable job of paying off the loan, but the storyline remained unanswered at the end of the year.
Though few spoilers have disclosed how the scenario plays out from here, Tane's tormentors are unlikely to vanish softly. Is the expected job going ahead?
6. Tane and Ziggy's romance begins

Tane and Ziggy have been getting together for months, and this year they've been highly inclined to become a good couple. Home and Away's 2021 official trailer shows that Ziggy is struggling to resist Tane, particularly when he comes up with his flirtatious attempts to win her over.
Dean is still broken by his separation from Ziggy and wants her back, but will he continue his efforts in 2021, or will he go back down peacefully and let her be happy with another man?
7. Ari's past is revealed as an old flame arrives
Home and Away bosses have reported that Ari is going to face his own blast this year, when his old flame Mia, played by Anna Samson, arrives in Summer Bay.
Ari and Mia were together years ago, but the disaster struck their relationship when they lost a baby boy together. Afterwards, Ari went into a spiral and ended up in jail, while Mia cut herself off from him for good.
Mia is going to enter the Bay with her daughter Chloe, played by Sam Barrett. Ari was once a father figure to Chloe, so how is he going to react when the family he once knew shows up? Will this have an effect on his current relationship with Mac?
8. Ryder enjoys a new romance
Although Chloe knows Nikau from when they were younger, it seems that Bella has nothing to worry about as Ryder is going to be a newcomer's love interest.
Late last year, Lukas Radovich and Sam Barrett – who play Ryder and Chloe – were taken together to film romantic scenes on Palm Beach. This is Ryder's first relationship since his ill-fated fling with Jade Lennox last year.
9. Heath Braxton returns

Home and Away's 2021 promo also announced the return of Dan Ewing's iconic character, Heath.
No official details of Heath's return storyline have been released yet, but a few months ago, Dan was spotted filming with Rob Kipa-Williams (Ari Parata), Ethan Browne (Tane Parata) and Patrick O'Connor (Dean Thompson).
Heath, who was thought to be returning as a visitor, was a regular at Home and Away between 2011 and 2014, before coming back for another visit in 2016 and 2017.
10. Willow returns

Willow taking time out of Summer Bay at the end of last year, betraying Colby to Angelo and giving testimony against her friend in court. Sarah Roberts – who plays Willow – did not leave the show, however, and will be back on screen again this year.
Nothing else is known about Willow's future at the moment, but fans will be excited to see whether they will ever build bridges with Bella and Dean after breaking the Mangrove River code by cooperating with the police.
11. John's new romance

John will soon be enjoying his first romance since his separation from Marilyn. Show bosses have chosen the most talented former McLeod's Daughters actress Bridie Carter as a newcomer to Susie, a real estate agent who takes a shine to John.
Billed as charming and intelligent, Susie is coming to the Bay looking for a fresh start. Can she and John develop a long-lasting relationship?