While Tori (Penny McNamee) and Christian's (Ditch Davey) engagement should be a happy time, Justin (James Stewart) and Leah are two of the people who suffer the most in the aftermath of the news (Ada Nicodemou). Although Leah is pleased with the couple, Justin is instinctively concerned that Tori is making the wrong decision.
Leah asks why Justin is so interested, and he's talking about the sanctity of marriage in such a way that she knows how highly he values it. As she told him early in her relationship that she didn't want to get married, she's beginning to wonder if their life views are just too different to be sustainable.
Justin doesn't know how his words come to Leah, and he keeps on venting how he feels engagement is a mistake. Unfortunately, this causes Leah to get upset, too, so the pair ends up in a full-blown fight.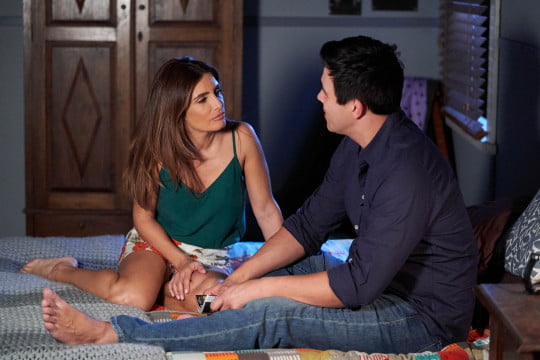 Leah trusts Irene (Lynne McGranger) and Irene clearly asks her if marriage is always going to be off the cards for her – particularly because she's so happy and settled with Justin now. Leah is disappointed with the idea that everyone has to step into marriage in order to prove their engagement.
When Justin is puzzled by Leah's emotional response, their conversation begins to escalate as he speaks about how he admires the institution of marriage. Interpreting her mood entirely wrong, he reacts to the situation by asking her if she wants to get married.