Sam Frost of Home and Away's SAVAGE response to a troll who questioned her choice to not use her fiancé Jordie Hansen's last name was, "I'm not in the mood."
After a troll questioned Sam Frost's decision to preserve her last name after marrying fiancé Jordie Hansen, Sam Frost responded.
The 33-year-old former Home and Away actor sent a comment on Instagram from a fan asking her why she decided against changing her last name from Frost to Hansen.
The message read, "Hello Sam, regarding your story, my friend wants to know how you would explain to your future children why their mother has a different last name from them."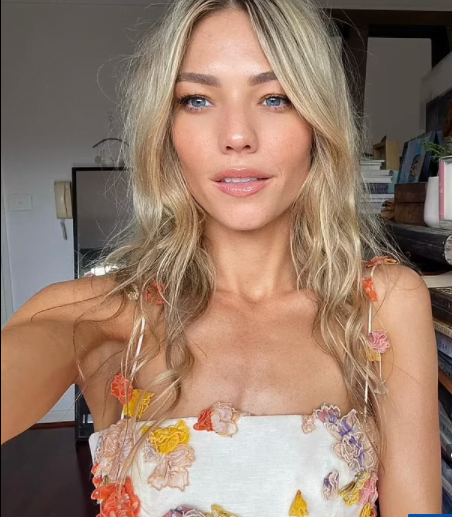 It will be quite straightforward and easy, she retorted, "Mike." I'll explain that I didn't want to do it. My last name is significant to me.
But kids won't care since their mother will adore them no matter what. I appreciate your care, though.
I'm not in the mood, Mike, Sam captioned the picture.
Sam announced on Instagram on Monday that, after she marries her fiancé, she will not be changing her last name from Frost to Hansen.
I have no intention of altering my last name. On our first date, I advised Jord to keep his expectations in check. That's fair enough, why should you change your name, he said without blinking.
"I appreciate that people do, it's a lovely commitment," Sam concluded. But I've always had a bad feeling about it. I feel a strong connection to my surname because it's a part of who I am and how my family is.
I'm thankful to have a partner who is understanding and supportive. But our future offspring will be Hansen.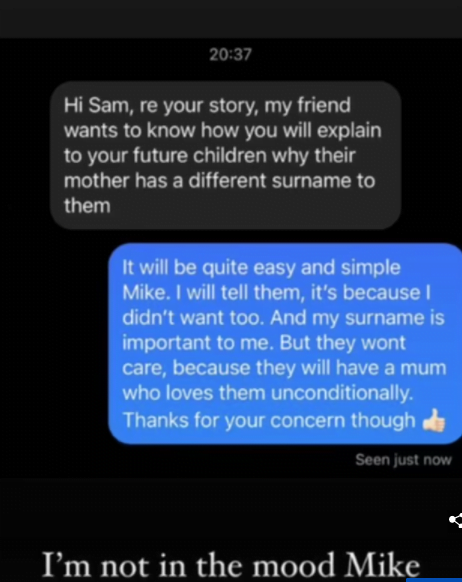 In May, Jordie proposed to the stunning Bachelorette when they were travelling from the Northern Territory to South Australia.
Sam's younger brother, Alex Frost, who co-starred with Jordie on Australian Survivor, introduced her to her fiancé.
When the two went on a vacation down the New South Wales coast in April, she announced their romance on Instagram.