When the aircraft he was flying crashed into a distant wilderness, Mathew Farrell perished.
Coworkers praised the Tasmanian as an adventurous thrill-seeker.
He had filmed all over the world for ABC, BBC, and Discovery Channel.
Having received his pilot's licence last year, he had only lately purchased the aircraft.
A well-known Australian filmmaker perished when the small plane he was flying crashed in a wilderness area in the highlands of Victoria.
Friends and coworkers of Mathew Farrell, such as Bonnie Sveen of Home and Away, have praised the Tasmanian's passion for the outdoors, which has taken him from the Moroccan desert to the Antarctic polar tundra.
The retired TV personality, who had worked for ABC, BBC, and Discovery channel, had been residing in Tawong, in Victoria's northeast, with his fiancee Karen Waller.
On Sunday at noon, Mr. Farrell took out from the nearby Mount Beauty airstrip for NSW. However, when he did not show up at his intended location, an alert was raised and a search was launched.
Around 10 a.m. on Monday, rescuers discovered the wreckage of the plane and Mr. Farrell's body in dense forest close to Lucyvale.
After receiving his pilot's licence last year, he had only lately purchased the aircraft.
Ms. Sveen, 32, who plays Ricky Sharp in the TV soap, wrote on Instagram that "Tassie lost a kind, big-hearted person and filmmaker this week."
"Mat Farrell was a photographer, editor, and multi-talented individual who was well-established in the local creative and media sectors."
'I closely collaborated with him on the short film Life Lives On that we produced about two years ago; Mat's generous time, advice, and enthusiasm were absolutely essential to the realisation of an idea I had.
He served as both the editor and the director of photography. I believed (and hoped!) that it would be the first of many endeavours we would undertake together.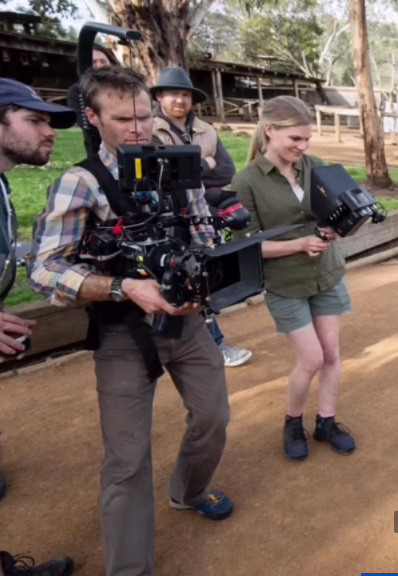 Sending love and courage to Mat's fiance, family, and heartbroken friends, she continued.
What an awful shock it was to lose him so young. Be at ease, Mat. and I appreciate what you shared with the world.
Newspaper employees recalled the former Hobart Mercury photographer for his adventurous personality that "embraced life" and whose skills also included being a paraglider, polar explorer, mountaineering guide, and zodiac boat driver.
According to former Mercury Head of Vision Daniel Jupe, "He was a professional inspiration to work with. He was motivated, passionate, and driven to innovation."
He worked in a variety of fields and excelled in each while also fostering an environment that was enjoyable for his coworkers to work in.
Mat was among the most generous and nicest persons I've ever known.
He welcomed life. He was passionate, calm, and ceaselessly excited yet utterly giving. He was also adventurous yet thoughtful.
He touched people in a way that few can and connected with people in a manner that we all wish we could, and he will be missed by a great number of people in Tasmania, throughout the state, and around the world.
The Tasmanian chapter of the Australian Cinematographers Society expressed grief at his untimely passing.
The group wrote on social media, "On behalf of all ACS Tasmania members, we are horrified and extremely saddened at the untimely demise of Mathew Farrell."
We offer Mat's family, his fiance Kaz, as well as his friends and coworkers, our sincere sympathies.
Many people in his adoptive state of Tasmania, notably those in the media and film industries, where he was well regarded, will remember Mat with great affection.
Additionally, a buddy expressed respects on Mr. Farrell's Facebook page.
Matthew's friend Monty BB commented, "Your love of adventure was never absent from all you did."
"You made the experience your own, and we all went along for the ride, whether it was filming, hang-gliding, rock-climbing, or out in the woods!"
We first connected via our shared love of riding many years ago. I appreciate all the happiness you gave to everyone's life. Many people will miss you.
I send my deepest sympathies to your family and all of your loved ones.