The return of Joe Mangel in a video conference with Harold is set to be shown on Neighbours, but this call only serves to highlight Harold's grave error in dealing with Melanie and Toadie.
The fact that Melanie and Toadie are getting married has been obvious to everyone since Harold returned, and Melanie quickly realises that Harold does not share their enthusiasm.
Harold reveals to Melanie that he is concerned that Nell and Hugo may suffer the same harm as Toby and Sky did when she left Joe.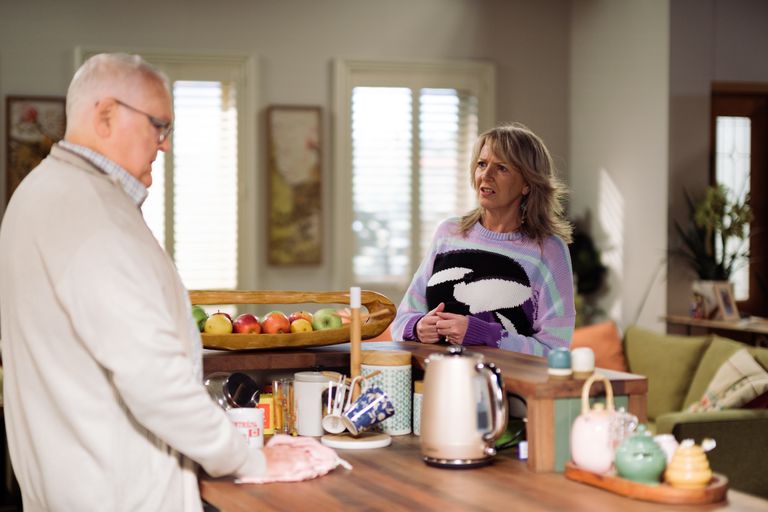 Melanie expresses her hurt that Harold might believe she would act in such a manner and informs Toadie that Harold's account of what transpired does not correspond to what actually occurred between her and Joe.
Harold decides to check with Joe to make sure he has his facts right after Toadie asks him to leave the engagement party. He quickly learns that he is utterly mistaken.
Joe confesses to Harold that he lied when they discussed it, but he instead praises Melanie and says that he and the kids were fortunate to have her.
Will Melanie and Toadie accept Harold's apology and humble pie now that he has to do so?
When Mark Little made a lengthy comeback to Ramsay Street in 2005 to help mark the show's 20th anniversary, viewers last saw him as Joe Mangel.
At that time, Joe's breakup from Melanie was made public, but he also discovered fresh, albeit fleeting, love with Lyn Scully.
He was at the centre of various major storylines during his first run, which spanned the years 1988 to 1991, including the death of his wife Kerry and a custody dispute over her daughter Sky.
For that same 20th birthday party, Lucinda Cowden herself made a brief appearance as Melanie from London. In 2021, she joined the show again full-time.