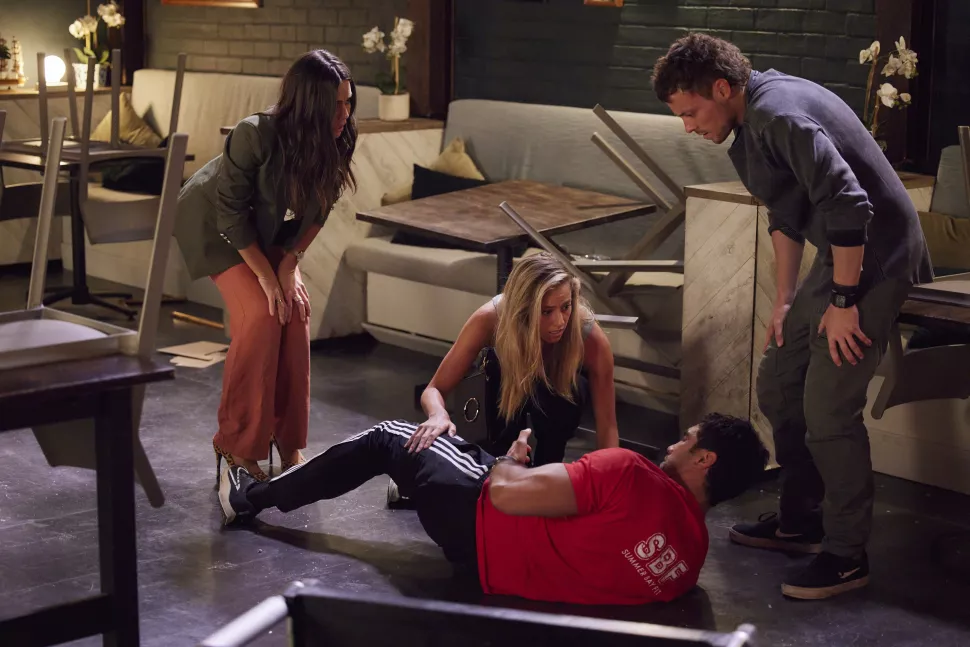 On Home and Away, Tane Parata (Ethan Browne) is stabbed during a late-night robbery attempt at Salt.
Felicity Newman (Jacqui Purvis), Tane's girlfriend, is horrified as she frantically tries to stop the bleeding from his stab wound.
She yells at Mackenzie Booth (Emily Weir), the restaurant owner, to summon an ambulance.
Dean Thompson (Patrick O'Connor), Mackenzie's brother, however, stops them all in their tracks when he reminds out that they can't involve the cops… or the illicit gambling nights at Salt will be EXPOSED!
Mackenzie knows there's only ONE person she can turn to for help as Tane bleeds down on the floor.
Logan Bennett, her doctor boyfriend (Harley Bonner)…
Logan is surprised to see Tane has been stabbed as he gets on the scene.
But WHY hasn't an ambulance been dispatched?
Is Logan about to learn the truth about Mackenzie's criminal transactions as he interrogates her?
Meanwhile, Rose Delaney (Kirsty Marillier) continues her covert inquiry into the link between Felicity, Nathan Silva (Ryan Panizza), and the mysterious PK (Ryan Johnson).
Rose is concerned that Felicity is somehow involved in Nathan's unscrupulous dealings after learning of his debt past.
Unfortunately, Rose's unofficial investigation is hampered by Felicity's policeman brother, Cash Newman (Nicholas Cartwright).
He wants to know what his cop buddy is up to.
Will Rose be forced to divulge how Felicity approached her recently for assistance in digging up dirt on Nathan and PK?
Cash and Rose, dressed in uniform, went out to find Felicity, armed with a slew of questions…
Bella Nixon (Courtney Miller) assists her lover, Nikau Parata (Kawakawa Fox-Reo), with his application to join the Surf Club as a full-time paid lifesaver.
Nikau continues to have doubts about himself.
However, just as Bella has begun to instil faith in Nikau, the pair receives SURPRISE news about Nikau's uncle, Tane…
On Channel 5, Home and Away airs weekdays at 1:15 p.m.