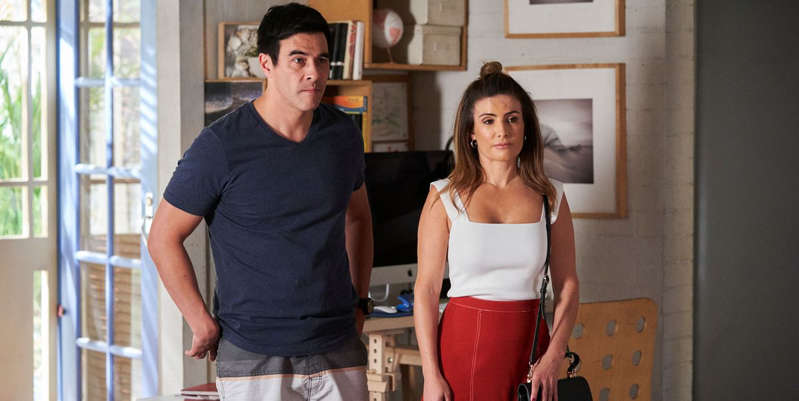 The scale of the Surf Club's problems continues to astound and depress John. He feels worse as he digs deeper into the issue, and he's ashamed to admit how much access he gave Susie at the time.
Instead of looking for their own defeats, Justin looks for Leah and learns she is assisting the Surf Club with sponsorship problems. He is annoyed by her priorities.
Susie duped John into creating an extra account, which Alf is mad about. John apologises profusely and accepts full responsibility for Susie's conduct. Irene attempts to assuage John's remorse, but he is in excruciating pain.
Justin finally catches up with Leah and asks why she's concentrating her efforts on the Surf Club rather than their own problems. They begin bickering, and their tensions hit a breaking point, with a worried Roo witnessing their public brawl.
Roo finds Justin at home and has a quiet conversation with him, but Justin refuses to blame anyone but Leah. Justin invites Leah to sit down and discuss her feelings. They both acknowledge how much they're dealing with what Susie has done to them, and they realise that they'll need each other to fight this battle.
John arrives in Salt just as they seem to have reached an agreement, and Justin goes on the offensive, blaming John for everything. Leah chases Justin down, and the two argue about the situation, with Leah finally revealing that she, too, blames Justin for their misfortune.
Justin sprints to the beach, fueled by fury, with Leah close behind. He grabs the closest surfboard and dives into the water, but once he's out there, he calms down and takes his gaze away from the raging waves.
A rogue wave slams into Justin, pulling him under the surface and churning him in every direction. Leah is left to watch from the beach, terrified and unable to intervene. Has Justin's life been put in jeopardy as a result of his hasty decision?
Bella, on the other hand, is growing tired of Ryder and Chloe's constant infatuation. Both she and Nikau wonder if it was better when the lovers didn't like each other. Bella and Nikau go to the Diner to spend some quality time together.
Bella mistakenly brushes aside Marilyn's casual concerns about Ari's adjustment and attempts to get ready for their time together. Roo swoops in and bombards Bella with questions about Chloe and Ryder, much to Bella's chagrin. Roo rushes to Ryder with the happy news, but her nephew is unimpressed with Roo's efforts to obtain information.
Just as Bella and Nikau are about to retire to the pool for some alone time, Ryder and Chloe arrive with their excited energy, ruining Bella's mood. Chloe is unconcerned about the couple's needs, and they fight, with Bella storming away. She admits to Nikau that she is unsure of her place in his large family.