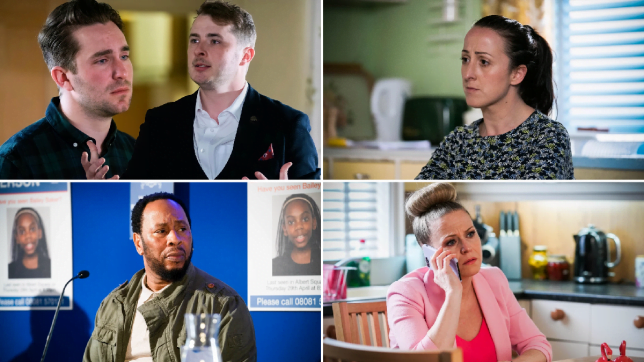 In EastEnders, the Taylor family faces horrifying torture as they launch an appeal to locate missing Bailey Baker (Kara Leah-Fernandes), with Karen (Lorraine Stanley) and Mitch (Roger Griffiths) fearful of the worst.
Callum Highway (Tony Clay) is afraid of something else, and he realises it's time to tell his groom, Ben Mitchell (Max Bowden), about the true extent of his work with the cops against Phil (Steve McFadden).
Is the wedding going to be postponed?
Monday May 3
Whitney informs Callum that she will not be attending his wedding because she believes Ben was responsible for Kush's death. Callum is growing suspicious as well, particularly because Ben is planning a secret meeting and acting oddly.
Callum wants to know if Ben hurt Kush, but when Ben reveals who he really met up with, all becomes apparent. Stuart and Ben have teamed up to ambush Callum's grandmother Violet by bringing her to Walford prior to the wedding.
Ben assures Callum that there will be no more lies now that the misunderstanding has been cleared up. This causes Callum to make a confession of his own, admitting that his true target when he went undercover was Phil.
Meanwhile, after Bailey's abduction, police want to search the Taylors' home once more. Mitch believes the cops are attempting to pin the blame on them. Amy later reveals that Bailey was aware that the family couldn't afford space camp. Mitch realises that this is one of the reasons Bailey bolted.
Linda, on the other hand, is troubled by Nancy's decision. She quickly takes matters into her own hands, calling Nancy and posing as her.
Tuesday May 4
Linda goes to the clinic to meet with Nancy's doctor, but she is stopped in her tracks when she feels dizzy. Linda informs the doctor that she believes she is pregnant.
Later, Nancy asks Linda about her meddling, resulting in a heated exchange between the two.
Ben, meanwhile, is enraged by Callum's confession and demands an explanation.
In another scene, Jack suggests that the Taylors make a television appeal for details about Bailey.
Thursday May 6
Phil is unsure why Ben and Callum are at odds, so he attempts to help by instructing Callum to resolve the situation.
Callum informs Ben that he will be waiting for him at the registry office on Monday in the hopes that he will appear.
Karen, on the other hand, is having trouble giving the TV appeal. On the fundraiser page, rude remarks are made, and Karen has a negative reaction when she receives a gift hamper on her doorstep. Karen becomes enraged and storms into the Square.
Elsewhere, tensions between Linda and Nancy remain strong.
Friday May 7
Denise's attempts to apologise to the Taylor family for the hamper yesterday fail miserably. Denise discovers another way to assist the family by visiting Apostolos.
After yesterday's incident, Jack informs the Taylors that Bailey has been found and that Apostolos has dropped all charges. Keegan breaks the discussion by suggesting that his family visit The Vic.
At the same time, Bailey is sleeping in an underpass in a sleeping bag with Banjo by her side.
Meanwhile, when any of Vi's remarks irritate Phil, Kat gives her a piece of her mind. Phil is thankful to Kat for standing up for him.
Bobby's lies threaten to catch up with him when Dana shows up suddenly at Walford East. Bobby tells Peter the truth about all of the lies he told Dana.