In this week's episode of Home and Away, Chloe (Sam Barrett) overhears Tane (Ethan Browne) and Mia (Anna Samson) discussing plans to take her away from the Bay, and she is enraged.
What authority does her mother have to decide where she will live? She has reached adulthood! Mia's decision to avoid all reminders of Ari (Rob Kipa-Williams) appears to be backfiring just as mother and daughter are beginning to reconnect.
Meanwhile, Felicity (Jacqui Purvis) cancels Mackenzie's (Emily Weir) poker night at the last minute, leaving Mackenzie scrambling for a replacement waitress.
She goes to the Farm House clutching at straws and recruits Ziggy (Sophie Dillman) for a 'Bucks Party.' When Dean (Patrick O'Connor) sees Ziggy all dolled up, he is suspicious, and his concern quickly turns to rage when he follows them to Salt and witnesses his girlfriend being propositioned by a drunk gambler during an illegal event.
Here's what you can expect on Home and Away starting Monday, May 23.
When Chloe learns of Mia's secret plans, she is furious
Mia has dropped a bombshell on Tane, revealing that she is leaving the Bay and will be accompanied by Chloe. Mia is determined to tie up loose ends and get the paperwork drawn up to sign over the gym to Tane, despite Tane's belief that she will not have the support system she requires.
Chloe may not agree with leaving, according to the Parata brother, but Mia is confident that it is in their best interests. Tane and Mia end up arguing in the gym about it, and Chloe overhears them as she enters, looking for her mum. She is furious and lashes out at Mia – how dare she make decisions for her without even consulting her first?
Roo ropes Irene into a trip to Merimbula to check on Martha
Since the two have been in Merimbula for a while, Roo has become increasingly agitated as she waits for an update from Alf on Martha's health.
Irene advises her to be patient and trust Alf, but Roo's agitation only gets worse over time. Irene understands her difficulties and agrees to accompany her to Merimbula, but just as the two are about to leave, Alf calls with an update.
Roo is relieved to hear Martha is okay, but she still believes there are unresolved issues that need to be addressed, so the two women get in the car and drive.
Xander is caught in the middle of the feud between Rose and Jasmine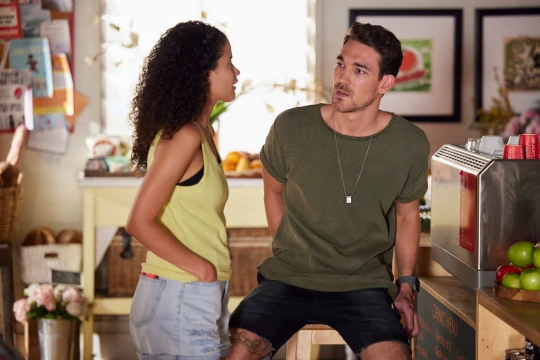 Xander's decision to stay in the Bay perplexes Rose, and she struggles to find common ground with Jasmine.
Xander and Jasmine, on the other hand, are a match made in heaven, with Jasmine planning an afternoon of adventures and Xander booking more vacation time.
Rose eventually has enough and declares that she is leaving the Bay. Jasmine is disappointed, but no one can persuade Rose to change her mind, and she returns to the city – but not before speaking with her brother. 'Watch out for Jasmine.' Xander is trapped between the two feuding sisters, while Jasmine believes she is to blame for the fight…
Mackenzie invites Ziggy to a private poker game
Mackenzie has only recently returned from a trip to the Hunter Valley with Logan, but she has already begun planning the next poker night.
Felicity is on top of everything – until Tane calls and she has to drop out at the last minute to spend the night with him.
Mackenzie is keen to get Felicity in for the night, giving her double pay and matching tips, but she refuses. With the clock ticking away, Mackenzie considers who else might be able to assist her – and then she shows up at the Farm House, requesting Ziggy…
Dean enters to see Ziggy being courted by a high roller
When Mackenzie reveals she's short-staffed for a 'Bucks Party,' Ziggy is happy to pitch in. Dean, on the other hand, is sceptical and concerned to see his girlfriend getting ready for a night of serving drinks to inebriated men.
Dean is at a loss after the two women leave. He summons Logan, who arrives, but when it becomes evident that they have no idea what Mackenzie is up to in Salt, Dean resolves to visit her. Logan is called away to work, but Dean enters Salt and is enraged to witness Ziggy being propositioned by a gambler while a poker session takes place around them…
Roo is surprised by Martha's sudden change of heart
Martha has been released from the Merimbula hospital and has asked Alf to drive her back to the Bay. Roo is taken aback by Alf's decision to let her travel in such poor health, but Alf claims Martha insisted on speaking with her daughter.
Roo begins to suspect bad news is on the way, but she is taken aback when Martha finally reveals what has been on her mind. She wants to proceed with the transplant if Roo is still willing. Roo is taken aback and surprised… Will she, however, consent to the procedure?
Ryder is taken aback when he learns the truth about Theo's past
John asks Ryder to keep an eye on Theo because he's having some issues right now. Ryder goes over to his friend's house, only to walk in on a heated father-son argument that appears to be about to explode.
Dimitri rushes away, but Ryder inquires about the situation with Theo. Theo is hesitant to open up, but Ryder encourages him to do so, and Theo tells the truth about Dimitri's abuse as a child.
Ryder is shocked and tells Theo that he must inform the police, but Theo feels powerless and says that he can't do anything because there is no proof…
Dimitri punches Justin in the face and knocks him out in the garage
Dimitri has been trying to reach Theo and convince him to return to the city to compensate for his wife's departure, and after a few arguments, he finally gets his son seated next to him in Salt.
When he tells Theo that his parenting was all about instilling good values in him, Theo softens. Leah, on the other hand, quickly notices what's going on and tells Dimitri to stop being so manipulative.
Theo realises his father is joking around with him and tells him to leave. Dimitri does so, but not before storming into the garage and unleashing his rage on Justin, punching him in the face and knocking him unconscious on the floor…