Belinda Emmett will be remembered as one of Australia's brightest young stars for the rest of her life.
Between 1996 and 1999, the gifted actress was a fan favourite on Home & Away, thanks to her trademark head of golden curls.
Her legacy, though, was considerably broader.
Belinda was diagnosed with breast cancer at the age of 24.
Her Home & Away family, as well as her tens of thousands of fans, were stunned by the news.
Soon after, she quit the show to focus on her health, undergoing radiotherapy and surgery to remove a cancerous tumour.
More examinations in 2001 revealed that Belinda's cancer had spread to her bones.
Belinda expressed it in an interview with The Australian Women's Weekly in 2002 "It wasn't a question of if, but rather when. The scumbags were on their way to get me "..
Belinda died in November 2006, 18 months after marrying her long-time boyfriend, Rove McManus, after a long and terribly difficult fight.
The tragedy was felt all around the world. During her appearance on The All New Monty in 2019, former co-star Lynne McGranger discussed Belinda, saying, " "It was heartbreaking. We've all met someone."
Despite the fact that her time on Earth was cut short, her legacy on Home and Away continues.
We took a look back at some of her most memorable scenes from the popular Australian soap opera.
Rebecca Fisher, the show's ever-intriguing character, appeared on and off in its early years. Rebecca (played by Jane Hall at the time) arrived in Summer Bay fresh-faced in 1989 and went to meet her father Donald Fisher over the school vacations.
Rebecca returned in 1994 (this time played by Danielle Carter), where a brief affair with schoolteacher Luke turned sour, and she departed The Bay for the second time.
But, in 1996, Belinda Emmett became the third actress to play the nomadic character in the beach-side setting. She was here to stay this time.
Rebecca's tumultuous relationship with her father has its highs and lows. One of the most dramatic moments occurred when he announced his intention to marry Marilyn Chambers, much to Rebecca's chagrin. Rebecca made peace with everything after a confrontation with the bride-to-be, who was still played by Emily Symons all those years ago.
Of course, Rebecca's drama wasn't limited to that. She was put through her paces, from a stalking plotline in which fellow Summer Bay inhabitant Chloe Richards developed an unhealthy attachment with her to multiple tried and failed relationships, but she always came out stronger.
Rebecca finally fell for Travis Nash, a longtime friend of hers. Rebecca Fisher became Mrs. Nash after the couple married in 1997.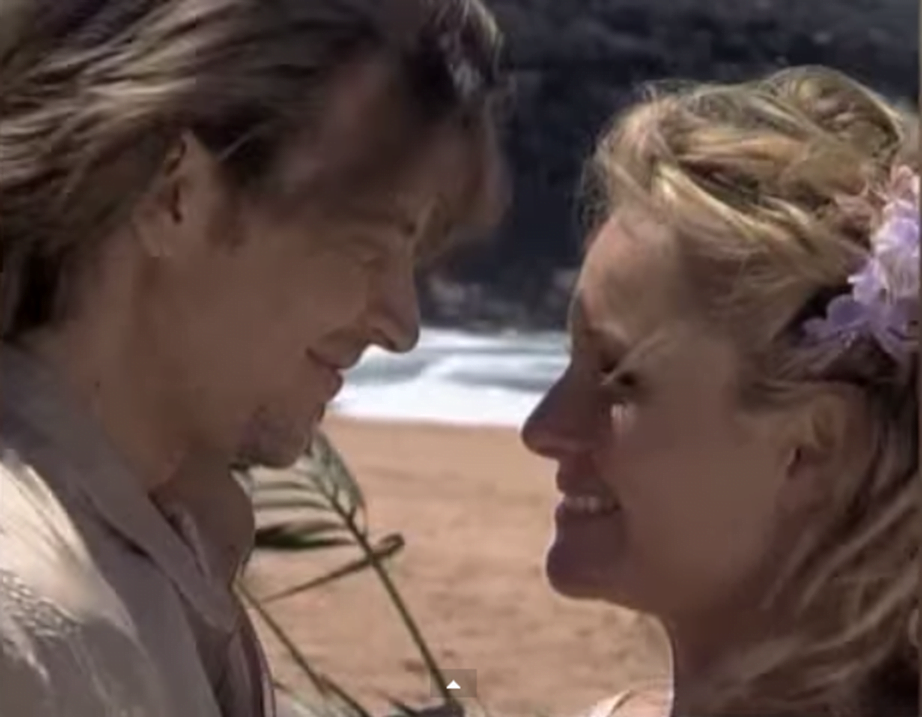 Rebecca and Travis, unlike many other Summer Bay couples before them, stuck it out, and after a brief ownership of Summer Bay Caravan Park, the couple opted to sail from Summer Bay and settle in Canada. Dad Donald disclosed they had a son while at the concert after they left.
Belinda was diagnosed with breast cancer during the height of her television career, while portraying Rebecca. She eventually decided to resign from her position in order to focus on her health.
Belinda and Rove first met in 1999 at a Fox Studios event. The two hit it off right away and decided to go public with their romance.
They were Australia's darlings, spotted at a slew of high-profile events.
Belinda's cancer returned sadly in 2001, but she and Rove remained as strong as ever. In May 2005, they married in a magnificent ceremony.
Belinda unfortunately died in November 2006 from the sickness that had tormented her since she was so little. Her admirers and colleagues in the Australian entertainment business were devastated. "She did more in her 32 years than most people do in 90," her parents subsequently claimed.