On Neighbours, Chloe Brennan (April Rose Pengilly) has been knocked for a loop after receiving a surprise visit from her ex-lover Elly Conway (Jodi Gordon).
To be nearer to her family, Chloe intends to sell Number 24 and return to Adelaide.
Yet another UNANTICIPATED offer has just been made:
to try again with Elly in a relationship!
After all this time, Elly seems to have finally accepted her affections for Chloe.
Chloe isn't sure whether everything is just too nice to be true, though.
What will Chloe finally decide regarding the future as she begins to put some distance between herself and Elly?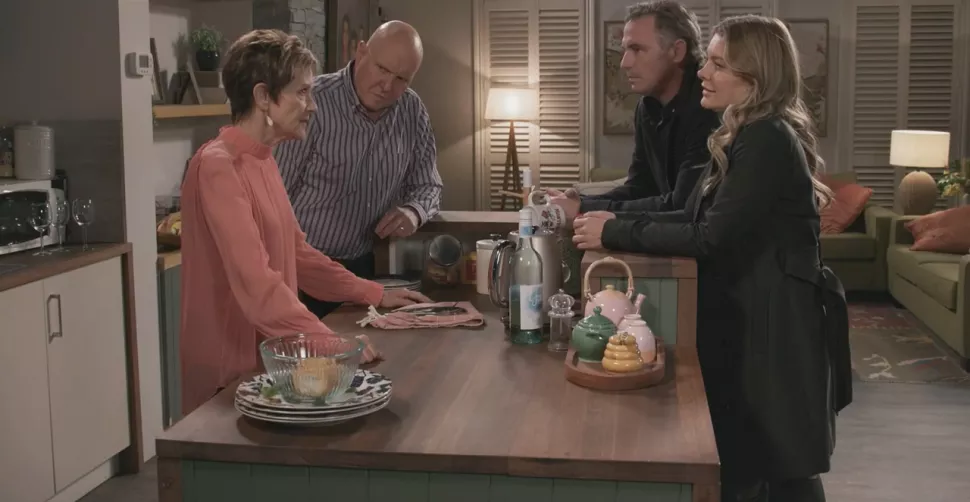 Natalie Bassingthwaighte's character, Izzy Hoyland, has her sights set on moving into Number 24 with her new boyfriend, Mal Kennedy (Benji McNair).
Izzy, a known marriage-destroyer, is not someone Mal's mother Susan Kennedy (Jackie Woodburne) wants to live too near to.
When they learn that estate agent Paige Smith (Olympia Valance) has found another buyer for the mansion, Izzy and Mal are taken aback.
Izzy recognises SABOTAGE right away and knows EXACTLY WHO is attempting to stop her from moving onto Ramsay Street.
Uh-oh.
When an irate Izzy rushes to the Kennedy home just as things are about to get started, I wonder:
The relationship between Jane Harris (Annie Jones) and Clive Gibbons appears to be over (Geoff Paine).
Jane still can't get over the idea that Clive almost cheated on her with Danielle Pendlebury, a former patient.
Any chance of a reconciliation between Jane and Clive is further derailed when she witnesses her son Byron Stone (Joe Klocek) returning the watch he had originally left at Danielle's house to the hospital doctor.
Jane is much more certain that Clive is guilty now!
Will Jane, however, pay attention when Byron begs her to give Clive another chance?
On Channel 5, Neighbours airs every day at 1:45 p.m. and 6:00 p.m.