Scott and Charlene Robinson (Jason Donovan and Kylie Minogue) of Neighbours were mentioned in the most recent episode of the Australian serial.
During a talk with Paul Robinson, Leo Tanaka (Tim Kano) mentioned the couple, who married in 1987 during the show's most iconic event (Stefan Dennis).
Following his hospitalisation, Paul returned to work earlier this week. After Terese Willis' (Rebekah Elmaloglou) decision to divorce him, the Ramsay Street legend is desperate to move on, but he's clearly struggling more than he'd like to admit.
Susan and Karl Kennedy (Jackie Woodburne and Alan Fletcher), on the other hand, were quick to recognise his distress and give support and advise.
Paul shared his struggles, confessing that working so closely with Terese is difficult for him. Susan advised him to do something else, but he refused, causing the school principal to seek Leo's assistance.
In subsequent scenes, Leo approached Paul, informing him that he has cancelled all of his meetings for the next three weeks. Paul was furious, but he soon found out that Leo had purchased him a train ticket to Brisbane.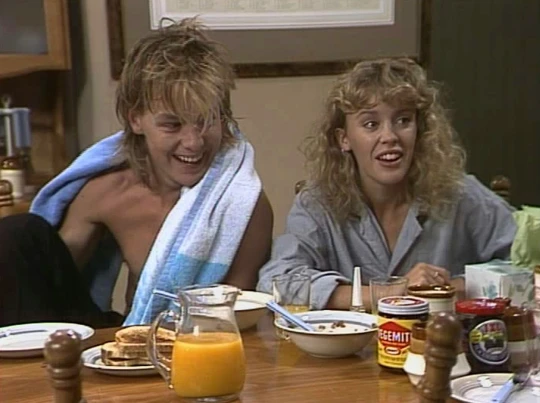 He said, 'Scott and Charlene are picking you up from the station!'
Scott is Paul's brother, as long-time fans will know.
Paul protested he didn't have time for such a trip, but Leo urged, encouraging him to take care of himself after his recent hospital visit.
Scott and Charlene, who last featured on Neighbours in the late 1980s, are at the top of fans' wish list of characters to return before the show's unfortunate end.
Interestingly, a report in The Sun last month suggested that Neighbours executives were considering bringing back Kylie Minogue and Jason Donovan to send the show off with a 'bang.'
'Bosses have spoken to Jason, who has agreed to return in theory,' according to a source close to the situation.
They're only waiting to hear back from Kylie, who has always been a major fan of the show.
Neighbours will screen its final scenes in August after production company Fremantle acknowledged it was unable to secure a new broadcast partner in the UK following Channel 5's decision to remove the show from their schedules.
Neighbours airs on Channel 5 weekdays at 1:45 p.m. and 6 p.m.